Doctors On Call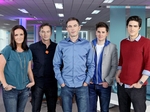 RT One has an exciting new health show coming to our screens on Wednesday, the 13th of November. The weekly six part magazine show will feature a specialised team of doctors, medical professionals and reporters will bring you the ultimate guide to health and wellness.
Presenter, Morning Irelands Dr. Gavin Jennings will be asking the questions that matter and exploring a whole new world of advanced medicine. Dr. Terry is on a mission to make Ireland take charge of their own health when he tackles the big six (COPD, Asthma, Stroke, Heart Failure, Diabetes and Heart Disease).
Dr. Ciara, GP and expert in family health, will give sound advice and practical tips on everything from in her mobile clinic whilst Dr. Johnny will check out the futuristic gadgets and the most cutting edge treatments available.
And Doctor On Call roving reporter, Paul Walsh will put Ireland to the test as he sets out a community challenge each week. Will he be coming to a village near you?
Check out Doctors On Call on RTÉ One from Wednesday, the 13th of November at 8:30pm.