Do The Right Thing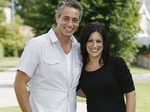 Presented by Lucy Kennedy and Baz Ashmawy, Do the Right Thing is a new RTÉ Two show all about aspiring volunteers who are ready to put their lives on hold for a year and travel to some of the most challenging places on earth.
Following a call for applications earlier this summer, 70 volunteers were selected to attend a weekend volunteer camp at Barretstown. In episode one of Do the Right Thing, they will be seen working together on a large-scale project with experts from volunteering and aid organisations monitoring their progress.
The best 16 will then be invited to spend eight weeks challenging themselves in all aspects of overseas volunteering, including tests of leadership, adaptability, resourcefulness, robustness, organisational and planning skills, amongst others.
At the end of each challenge the volunteers themselves will decide which girl and which guy will leave the show. Their decisions will be based on performance and advice from guiding experts.
Anne Maguire, of Irish NGO Haven, who is just back from Haiti where she worked on the emergency response to the earthquake, will be on hand as a mentor to the volunteers. Anne has also held leading roles in other international aid organisations, serving in East Timor, Niger, Darfur, Africa and Asia across an eight year period.
In the end one guy and one girl will win the most challenging and rewarding year of their lives. They will spend a year travelling and working together in some of the most difficult places on the planet, all expenses paid.
RTÉ One, Tuesday, 10.00pm