Diarmuid's Pony Kids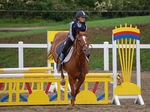 Diarmuid Gavin & Jessica Kurten, Ireland's number 1 show jumper, have teamed up again (having first worked together on the BBC show 'Only Fools on Horses' ). The challenge began when earlier this year trials were held in Fettercairn to find 5 Pony kids who had raw talent and a love for horses but no formal training. Jessica, Diarmuid and showjumper & trainer, Ronan Corrigan deliberated long and hard and finally they chose Thomas, Jade, Daryl, Squeeky and Dean.
The next and biggest challenge was to train them up in 10 short weeks to be showjumpers worthy of the calibre of the RDS horseshow. Over the weeks that followed the Pony kids had to set aside their hoodies and trainers in favour of blazers, jodhpurs, chaps and riding boots and learn how to use saddles, reins and stirrups for the first time. They spent 10 gruelling weeks travelling up and down to Mullingar for daily training and amazingly not one of them missed a day no matter how tough the going got.
Their journey over the course of the series takes them from inner city Pony markets to a meeting with Royalty, as Diarmuid and Jessica expose them to every element of the Horse Industry. They see a different side to the Gardaí than they're used to when they visit the mounted unit in Aras an Uachtaráin, Thomas gets to realise a dream during a visit to McKee Barracks, they see the steeple chasers of The Curragh in action, find an unexpected kindred spirit in a big-hearted Connamara horse man, take their first flight out of Ireland to visit Jessica's stables, meet Jockeys and Grooms, Aga Khan heroes and Olympic hopefuls and spend the day with Zara Phillips at Gatcombe Park watching her compete in the art of Dressage. It's a long way from the world of bare-backing pony rider.
This 6 part series follows the Pony Kids as they move between the cobbles of Smithfield Horse Market to the Main Show-jumping Arena of the RDS, barely 2 miles apart but completely separate worlds, it's an intrinsically Dublin story. Any Pony Kid can ride a horse at a flat out gallop around the housing estates of Dublin but Diarmuid's Pony Kids must overcome every fear they have and everything they've known so far in order to learn the discipline and focus that it takes to be an RDS show jumper.