Diana Bunici: Going Home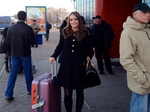 RTÉ's Diana Bunici can be seen each day presenting young people's programme elev8, embracing the madness and unpredictability that is children's television. While most kids feel they know Diana well, thinking of her as their friend or big sister, what most don't know is that she was born in a tiny village in rural Moldova where there was no electricity and getting water meant trips to the well.
In the documentary, Diana returns to her homeland after ten years. She packs up her suitcase for a journey like no other; undertaking an emotional rollercoaster that sees her being reunited with friends and family she hasn't seen face to face in over a decade.
Diana Bunici: Going Home sees two cultures blend as Irish citizen Diana explores her Moldovan heritage. Her surprise return comes at the most significant time of the year, Christmas which is celebrated on the 6th and 7th of January.
Diana's journey is particularly sentimental, with the passing of her grandparents while she has been away. It's the first time she has returned home to Moldova without being greeted by her dear grandmother with whom she was particularly close.
For Irish audiences the programme is a unique window into life in Eastern Europe, told through the eyes of Diana as she takes on this personal adventure where her past meets her present.
The city girl is seen shedding her urban lifestyle for a more simple way of life as she throws herself into village life, re-learning and re-discovering the magic of Malaiesti.
Follow Diana's journey as she sets foot into her childhood home and gets accustomed to a traditional toilet (a very primitive hole in the ground), mucks in with the farmyard animals and is reunited with her godparents and childhood friends who find it difficult to recognize her after all these years.
RTÉ Two, Monday 09 April 2012, 2.00pm