Dear Daughter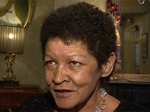 The unwanted child from a relationship between a Nigerian medical student and a married Dublin woman, Christine Buckley was abandoned at three weeks and subsequently brought up in Goldenbridge orphanage where life for her and other children like her, was pure hell.
The traumatic experiences of Christine Buckley at the Goldenbridge Orphanage and on her subsequent search for her birth parents who left her in the care of the institution.
Helplines
Towards Healing is a free and confidential Helpline and a Counselling Referral Service.

The Service can be accessed through:
. Freephone (Ireland) 1800 303 416
. Freephone (UK & Northern Ireland) 0800 096 3315

. www.towardshealing.ie
. Mobile number for texting purposes for our hearing impaired service users:
085-8022859

Helpline Opening Hours are:
. Monday & Wednesday 11am - 8.00pm
. Friday 11am - 4.00pm
Connect:

Free phone counselling for abuse survivors.
To speak to a counsellor call:
Freephone 1800 477 477
UK and Northern Ireland:
00800 477 477 77
Outside RoI and UK:
+353 1 865 7495 (International call rates apply)
Lines are open:
Monday 7 April 11.45pm until 1.00am
Tuesday 8 April through to and including Sunday 13 April 6.00pm - 10.00pm every night.
For information on tracing your birth family see:
http://www.citizensinformation.ie/en/birth_family
RTÉ ONE, Monday 7 April, 11.05pm