Dan & Becs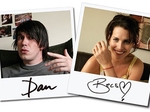 Dan & Becs is a comedy that intercuts the video diaries of the two main characters as they discuss their tumultuous relationship, blossoming careers, and the many perils of living life on Dublin's Southside.
Half a year in and Dan and Becs view their eventful relationship in very different terms. While Becs sees their recent spat up in Club 92 as a small glitch in an otherwise blissful six months, Dan suspects the couple are now skating on thin ice.
Dan (David Coffey) is an unemployed aspiring filmmaker, an (adopted) only child who lives with his deeply religious parents in Dalkey, South County Dublin. He remains convinced of his creative talents and sex-appeal despite all the evidence to the contrary. Dan is confident (and sometimes cocky) with women and always seeing someone. Rebecca is by far the nicest girl he's ever gone out with. Sadly everyone realises this except for him.
Becs (Holly White) is an aspiring actress/model currently studying fashion. She comes from a wealthy Dalkey family. Dad was high up in a well known bank but took early retirement following a series of financial scandals; and Mum runs a small clothing boutique in Glasthule. Becs is likeable, funny, very talkative and has an unhealthy obsession with relationship guides and self-help books. She senses things aren't going as well as they could with Dan and feels these books might contain the answer.