CSI: Crime Scene Investigation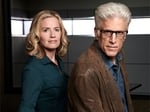 CSI returns for the 15th season on RTÉ2. This will be the final ever season set in the original location of Las Vegas.
Seasons
Season 15
"The CSI Effect" - Season 15, episode 1
Finlay must deal with a bomb planted in her car, while Russell gets a call from someone claiming to be the Gig Harbor killer, on the 15th season premiere of CSI.
Mark-Paul Gosselaar guest stars as twins Jared Briscoe and Paul Winthrop, and Mark Valley as Detective Daniel Shaw.
Season 14
Episode 1 - The Devil and D.B. Russell
D.B. Russell leads the CSI team to locate both Morgan and Ellie Brass following their kidnapping.
Episode 2 - Take the Money and Run
Immediately after a major poker win at a hotel casino, the poker room lights go out and the casino is robbed of over a million dollars in chips.
Episode 3 - Torch
The CSI team investigates a fire at a club venue which killed 4 people, including two band members.
Episode 4 - Last Supper
The CSI team is brought in to investigate a reality cooking show when contestants accidentally eat human flesh during a competition.
Episode 5 - Frame By Frame
Catherine Willows returns to help the CSI's solve a cold case which has haunted the team for the last 14 years.
Episode 6 - Passed Pawns
The CSI's investigates a murder of a homeless man who was found dead after a winning streak at a Casino.
Episode 7 - Under a Cloud
The CSI team investigates a John Doe found during torrential rains in Vegas. Meanwhile, Greg Sanders is investigated and accused of framing a man for murder seven years ago.
Episode 8 - Helpless
The CSI team investigates when a man is found dead inside a human-sized hamster ball.
Episode 9 - Check In and Check Out
The CSI are called in to investigate the stabbing of a couple found at a motel that and discover two other incidents which occurred in the same room.
Episode 10 - Girls Gone Wild
Sara, Finlay and Morgan's spa weekend turns into a murder investigation/missing persons case when Finlay goes missing, the CSI team figure out what happened in detail in order to find her.
Episode 11 - The Lost Reindeer
The CSI team is brought in to investigate when a man is found murdered at an elaborate holiday party.
Episode 12 - Keep Calm and Carry On
A petty crime aboard an inbound plane to Las Vegas erupts into a murder investigation when one of the passengers is found dead.
Episode 13 - Boston Brakes
The CSIs investigate a car crash and are shocked to discover the victim is someone that they know.
Episode 14 - De Los Muertos
The CSIs investigate a car crash and are shocked to discover the victim is someone that they know.
Episode 15 - Love For Sale
Nick and Greg investigate the death of a 16-year-old girl with ties to a brothel.
Episode 16 - Killer Moves
The CSIs investigate the murders of an Elvis impersonator and a bird that are somewhat connected.
Episode 17 - Long Road Home
The CSIs investigate the murder of a rock and roll groupie and the disappearance of a prostitute that both have ties to a mysterious band.
Episode 18 - Uninvited
The CSIs investigate when a local family is reported missing for a month.
Episode 19 - The Fallen
A teenager bursts into LVPD headquarters and shoots policeman Blake Hughes before spraying more bullets around the precinct and making his way to the interrogation room, where he takes DB and the man he was questioning hostage. A stand-off ensues, with Nick wanting to give Russell more time to talk the youth into surrendering, while officer Robert Dolan wants to charge in with a Swat team.
Episode 20 - Consumed
The CSIs hunt a cannibalistic killer and discover that he's not alone.
Episode 21 - Kitty
A special agent from the FBI's cyber-crime unit arrives to help the team after the wife of a casino mogul is found shot dead in her bed. While the team suspects husband Lee Berman wanted his wife out of the picture so he could be with a woman from a webcam sex-site they found on a laptop in his mansion, Agent Avery Ryan (guest star Patricia Arquette) suspects the case is more complicated than it appears. Ryan believes the answer lies in blackmail rather than an affair after working on another investigation in relation to 'Kitty' - the very camgirl in question. But who is the real woman behind the avatar?
RTÉ Two, Wednesday, 9.00pm