Crowded House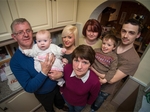 They say home is where the heart is...
In Ireland , 440,000 adults live at home with their parents. Almost 100,000 of them are currently unemployed. Known as the" boomerang generation" these are adult children who return home, often because they can no longer afford to own or rent a place of their own.
Moving back home may make financial sense, but it can lead to tension as adults (sometimes with children of their own) revert to a childlike role as dependants once again on their parents.
This is the experience of four extended families, living in a crowded house.
Finnbar Murray (28) is a father of two young children who moved back in with his mother in Cork.
Emma Hayes (24), partner Colin McGarr (25) and their two children are back living with Emma's parents in Co. Kildare.
Sinéad McCormack (31) is one of the residents obliged to move out of the Priory Hall apartment complex in Dublin. She is now living with her parents in Howth.
Esther Woodley (45) and her daughter are back living with Esther's parents in Clondalkin. Esther was unable to keep up the full mortgage repayments on her home in Wexford, which is now rented out.