Croke Park - The Opening Hour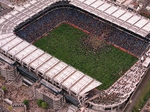 Ahead of the historic Croke Park games, RTÉ Television will broadcast "The Opening Hour", a specially commissioned half hour programme which celebrates the moment when Ireland unites in sport as the Irish rugby and soccer teams play in Croke Park for the first time.
The programme dips into personal perspectives and experiences of a range of people as a portal through which to analyse the significance of the forthcoming soccer and rugby games.
All around the world, monuments written in stone stand testament to the great national movements. From Bloody Sunday to the Special Olympics, Croke Park has always been an iconic symbol of Ireland's coming of age and hidden somewhere beneath its cloud grey roof masts, statuesque concrete pillars and cantilevered ramps are stories and ghosts that have defined our nation.
Since its refurbishment Croke Park has been acclaimed as one of Europe's magnificent amphitheatres and it truly is the envy of sporting federations around the globe. Nowadays, when packed with 80,000 screaming fans on a Midsummer afternoon, there can be no more potent expression of our modern confidence and prosperity.
The decision of the GAA Congress to open up its headquarters for use by the IRFU and FAI is a hugely significant event - in sporting and historical contexts.