Criminal Minds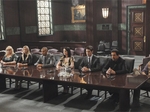 "It Takes A Village" Season 7, Episode 1
THE BAU MEMBERS FACE QUESTIONING BY A SENATE COMMITTEE FOR THEIR ACTIONS TO AVENGE THE LOSS OF PRENTISS, BUT AN UNEXPECTED FAMILIAR FACE KEEPS THE TEAM UNITED
Paget Brewster Returns as Emily Prentiss and A.J. Cook Returns as Jennifer "JJ" Jareau
Mark Moses ("Desperate Housewives," "Mad Men") Guest Stars as Cramer, a Member of the Senate Committee interrogating the BAU
The BAU team is at a crossroads as they are questioned by a Senate Committee for their retaliatory actions in the wake of Prentiss' loss, but an unexpected familiar face could help them win their case and keep the team together. Paget Brewster returns as Emily Prentiss and A.J. Cook returns as Jennifer "JJ" Jareau. Mark Moses ("Desperate Housewives," "Mad Men") guest stars as Cramer, a member of the Senate committee interrogating the BAU.
"Proof" Season 7, Episode 2
THE BAU TEAM SEARCHES RURAL OKLAHOMA FOR A MURDERER ROBBING WOMEN OF THEIR FIVE SENSES, AND REID GIVES PRENTISS AND JJ THE COLD SHOULDER
Andy Milder ("Weeds") Guest Stars as Cy, a Mentally-Challenged Man, and Tracy Middendorf ("CSI: Crime Scene Investigation," "Boardwalk Empire") Guest Stars as Lyla Bradstone, Cy's Sister-In-Law
The BAU team searches rural Oklahoma when women are being found murdered after being robbed of one of their five senses. Also, JJ and Prentiss get the cold shoulder from Reid as he deals with their deception about Prentiss' presumed death.
"Dorado Falls" Season 7, Episode 3
Investigation into a mass murder at an internet security company in Charlottesville, Virginia, reveals the butchery is not the work of a typical serial killer. Meanwhile, Morgan oversees Prentiss's requisite recertification training.
"Painless" Season 7, Episode 4
When the survivors of a high school massacre in Boise return on the 10th anniversary of the horrific event, the BAU is called to Idaho when another killer with a similar style begins to target the survivors. Meanwhile, Hotch becomes concerned that his son, Jack, might be a victim of bullying at his school.
"Childhood's Hour" Season 7, Episode 5
The BAU travels to St. Louis to investigate the disappearances of young children with troubled mothers as Rossi reconnects with his first wife, Carolyn, who brings him disturbing news.
"Epilogue" Season 7, Episode 6
The BAU is called to the Angeles National Forest in California after bodies mysteriously turn up in the mountain lakes there. Meanwhile, Rossi must make a difficult decision regarding his ex-wife, Carolyn.
"There's No Place Like Home" Season 7, Episode 7
After a series of tornadoes strike Kansas, the BAU is called to investigate when bodies of young boys are discovered in the aftermath of the storms in Wichita. Meanwhile, JJ faces pressure at home as well as at work.
"Hope" Season 7, Episode 8
Garcia asks the team for help after a woman in her survivors' support group disappears on the seventh anniversary of her daughter's disappearance.
"Self-Fulfilling Prophecy" Season 7, Episode 9
The BAU is called to determine the real reason behind what appears to be a mass suicide by a small group of young men at a military academy. Meanwhile, Hotchner and Morgan are at odds with each other when they discover their investigation could be jeopardized by another team member.
"The Bittersweet Science" Season 7, Episode 10
The BAU is called to Philadelphia to investigate a series of brutal murders and is led to the city's boxing scene in search of the killer. Meanwhile, Hotch meets an attractive runner as they both train for a triathlon.
"True Genius" Season 7, Episode 11
The BAU travels to San Francisco when a series of murders leads the team to believe the elusive "Zodiac Killer" might have returned as Reid contemplates his own genius capabilities. Meanwhile, Prentiss and Reid attend a seminar on violent crime hosted by the crime novelist Patricia Cornwell.
"Unknown Subject" Season 7, Episode 12
The team is called to Texas to search for a serial rapist in Houston known as "The Piano Man" who has returned and is attacking his past victims. Meanwhile, Prentiss begins to deal with the traumatic experience caused by Ian Doyle after she returned to the BAU.
"Snake Eyes" Season 7, Episode 13
The BAU is called to Atlantic City to investigate a series of ritualistic casino-related murders. Meanwhile, Garcia is concerned about her relationship with Kevin Lynch after the pair have a spat and she finds Morgan in her apartment dressed only in a towel.
"Closing Time" Season 7, Episode 14
The BAU investigates the murders of people whose bodies are found in lifeguard towers along the beaches of the Southern California coastline.
"A Thin Line" Season 7, Episode 15
When the BAU investigates a series of brutal home invasions and murders in the Inland Empire of Southern California that appear to be related to gangs, the investigation uncovers a more nefarious motive for the crimes.
"A Family Affair" Season 7, Episode 16
The BAU travels to Atlanta to investigate the murders of women and determines there could be more than one suspect involved in the case.
"I Love You, Tommy Brown" Season 7, Episode 17
When married couples that are fostering young children are being killed in Seattle, the BAU investigates the possibility they are being murdered by someone with a maternal instinct. Meanwhile, Garcia believes Kevin is about to ask her to marry him.