Cracking Crime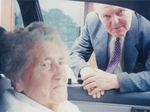 Return of the popular real crime series Cracking Crime which revisits some of the most high profile Irish murder cases of recent years. Using dramatic reconstruction and contributions from investigators, journalists, witnesses and family, the series aims to tell the stories behind the crimes as well as the methods used to solve it.
Cracking Crime is a Stirling Production for RTÉ.
Programmes
Episode One
For more than fifty years Eddie Fitzmaurice ran a drapery business in Bellaghy, Co Sligo beside the border with County Mayo. He ran the shop with this wife Rita whom he was married to for 43 years before she passed away in 1990. Eddie worked hours that suited him and was popular with the local community. A young neighbour became concerned when there had been no sign of Eddie for a number of days. He went to Eddie's house where he found a back window open. When he entered the house he was confronted with the horrific sight of Eddie's bound and gagged body lying prone by the front bedroom window. Eddie had been attacked and beaten in his bedroom but taken days to edge himself to the front bedroom window to try to get help. At some point he lost his battle and froze to death. Garda believed the motive for the attack was robbery. A massive investigation has been ongoing with 850 leads examined but still no breakthrough in finding the people who carried out this callous attack.
Episode Two
Emer O'Loughlin's body was discovered in a burnt out mobile home on a site in Ballybornagh. It was known that she had planned to charge her phone at nearby neighbour's mobile home on the morning of the 8 April 2005. The Gardai were called to the campsite in response to a call about burnt out mobile home. On arrival, human remains were discovered and these were later identified through DNA testing as those of Emer O'Loughlin.
Episode Three
Charles Brooke Pickard was originally from Leeds but moved his young family to the beautiful backdrop of Castlecove, on the Ring of Kerry in a bid to live off the land and provide them with a better life. They bought a small farm and set about renovating the farmhouse and tending their animals. The 26th April 1991 began as a normal day as Brooke set out that morning to help a friend cut turf. When Brooke did not return home, his wife Penny went to bed expecting to wake with him beside her. When this did not happen she grew concerned and when talking to neighbours discovered a local girl had told her father she had seen Brooke pull into a car park at Whitestrand beach in his distinctive blue van when a masked man suddenly rushed towards him.
Penny contacted the Gardaí, who, having initially treated the case as a missing person, upgraded it to an abduction. Twenty days later Brooke's burnt out van was found near Shronaloughane forest. The area around the van was thoroughly searched with no sign of Brooke. The Pickard family were left in limbo awaiting news of his safety and return. Twenty-two years on and the family still have no closure. Brooke's disappearance set in motion a train of tragic consequences that meant the family had to abandon their idyllic lifestyle and return home to England. The Gardaí have carried out extensive investigations both north and south of the border but those persons responsible for Brooke's disappearance have yet to be brought to justice.
Episode Four
Kerry-born prison officer Patricia Doherty was last seen alive on 23 December 1991 while on her way Christmas shopping in Tallaght. She was reported missing on Christmas Day by her husband. Six months later, her body was found by a turf cutter at Glassamucky Brakes bogland in the Featherbeds in the Dublin Mountains.