Corrigan Knows Food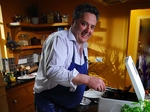 Award winning chef, Richard Corrigan takes to the road in an effort to find his own unique 'food heroes' in this brand new series.
Also, in each episode, guest chefs consult with ordinary families on healthy eating, and a celebrity opens his or her kitchen cupboards.
Richard Corrigan, the Michelin-starred chef who conquered London has recently returned to Ireland to open a new restaurant in the grounds of The Village at Lyons near Celbridge in Co. Kildare. The former famine village has been lovingly restored by Ryanair's Tony Ryan.
This RTÉ Cork-produced series will showcase Richard's passion for local food producers as well as featuring demonstrations and recipes.
Corrigan Knows Food is produced by RTÉ Cork.
Other Richard Corrigan Programmes