Conductor - Noel Kelehan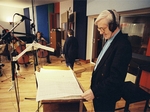 The late Noel Kelehan was the record holding conductor of the Eurovision Song Contest, overseeing 29 entries between 1966 and 1998, including five winning Irish songs.
A highly respected Jazz pianist, his wide ranging accomplishments included writing the string arrangements for U2's The Unforgettable Fire album to arranging and conducting for Daniel O Donnell.
The programme features tributes and reminiscences from family, friends and colleagues including Bill Whelan, Johnny Logan, Niamh Kavanagh, Brendan Graham and Louis Stewart and includes rare archive footage reflecting his illustrious career.
RTÉ One, Friday 25 May 2012 7.30pm