Cloch Le Carn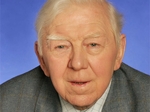 Episode One: CLOCH LE CARN CIARN MAC MATHNA
In December 2009, Ciarn Mac Mathna, one of Irelands best loved broadcasters with his own signature voice died, aged 84 years. He began work in Radio ireann in late 1954 as a music producer with responsibility for traditional music. During the 1950s & especially in the 60s, he was engaged in extensive field-recording. Travelling the highroads and byroads of Ireland getting to the source of the Irish musical tradition, recording musicians in the own homes and locales. His gentle, slow manner put nervous musicians and singers at their ease amid all the new fangled and cumbersome technology .
Ciarns voice was central to it all, everyone recognised it and when he spoke about music people hung onto his every word.
Paddy Glackin
It was on one such fieldtrip to the west, that he met his future wife Dolly while interviewing her father Martin Furey. They went on to have three children together.
Love is a very peculiar thing, it happens, and we were both very lucky. We were different in lots of ways but maybe thats why our marriage was so successful.
Dolly MacMahon
Ciarn also travelled abroad recording music in Britain and in the USA and it was on one of his American trips that he heard the Clancy Brothers for the first time, and had a hand in helping them become such a success on their native shores.
He presented such radio series as Ceolta Tre and A Job of Journeywork in the 60s while in the 70s and 80s he also worked in television, presenting traditional music series such as Fonn and The Humours of Donnybrook as well as fronting numerous traditional music documentaries.
He was somebody who didnt believe in formal barriers between different types of music. Music was good or not good.
Deirdre Mac Mathna ( Daughter)
He was perhaps best known to Irish audiences for his long running Sunday morning radio programme Mo Cheol Th which combined music, poetry and folklore. A constant in the RT Radio schedule for 35 years
And what other voice could you have at 10 OClock on a Sunday morning only Ciarn Mac Mathna hed do a little bit of a poem as youd be waking up and youd be straight back into slumber land!
Sen Keane ( Musician)
Ive always said to myself that walking down any street in rural Ireland with Ciarn was like walking with the Pope. Everyone would want to stop and chat with him.
Doireann N Bhriain
Ciarn won two Jacobs Awards, in 1969 and 1990 and received the Freedom of his native Limerick in 2004. He also received honorary doctorates from University College, Galway, and the University of Limerick. He died exactly one week after the death of Liam Clancy, marking the passing of a generation which did so much to celebrate and conserve Irish music. At his funeral, the poet Seamus Heaney likened Ciarn Mac Mathunas distinctive soft voice to a tuning fork that resonated with musicians and music lovers across the country.
I was privileged that his family asked me to speak at the funeral, and not only did I speak on behalf of those who worked with him but more importantly I spoke as a radio listener who got such pleasure from listening to his programmes all of my life.
Cathal Goan ( Former Director General, RT)
This programme in the Cloch le Carn series celebrates the life of Ciarn Mac Mathna through the eyes of those who knew him best and looks at the indelible mark he left on the Irish traditional music community. As well as contributions from his wife Dolly, his son Padraic and his daughter Deirdre, we also hear from Cathal Goan, Sen Keane, Paddy Glackin, Doireann N Bhriain and Diarmuid Breathnach.
Presenter / Reporter Garry Mac Donncha
Producer / Director Laura N Cheallaigh
CLOCH LE CARN CIARN MAC MATH NA
I m na Nollag 2009, bh glr simh binn ina thost nuair a bhsaigh Ciarn Mac Mathna agus cheithre bliana le cois an cheithre scr. Ceannrda i stair na craoltreachta in ireann, fear a thug rdn ar an raidi do cheoltir agus scalaithe na tre a dfhg oidhreacht shaibhir ina dhaidh.
I dts a shaothar oibre le RTE sna 50da thaistil Ciarn bthre na hireann idir bheag agus mhr go cro an cheoil dhchais ag taifead ceoltir Gaelacha ina dtithe agus ceantracha fn. Fiontar, i dts aimsir na craoltireachta, a bh spreagil n amhin do Chiarn agus a leithead ach do na pobail agsla a bh rannphrteach.
Chuir s clracha raidi ar ns Ceolta Tre and A Job of Journeywork i lthair sna 60da agus lithrigh s sraitheanna teilifse ar ns Fonn agus The Humours of Donnybrook sna 70da agus 80da.
C gur chaith Ciarn neart am s comhair an cheamara, be an at ab ansa leis agus an t ba mh a raibh a chli n mar chraoltir raidi go hrithe leis an gclr Mo Cheol Th, meascn meara de sheanchas, filcht agus ceoil a chur s i lthair ar feadh cig bliana s trcha.
Bh Ciarn psta le Dolly Mac Mahon agus bh trir clainne acu. Bhuaigh s dh ghradam Jacobs i 1069 agus 1990 agus bronnadh saoirse chathair Luimnigh air i 2004.
Caitheann an eagrin seo de Cloch le Carn sil siar ar a shaol agus a shaothar tr shile na ndaoine ab fhearr a raibh aithne acu air. Ag glacadh prt t a bhean Dolly, a mhac Padraic agus a inon Deirdre chomh maith le comhleacaithe agus cirde d chuid cosl le Cathal Goan, Sen Keane, Paddy Glackin, Doireann N Bhriain and Diarmuid Breathnach.
Lithreoir / Tuairisceoir Garry Mac Donncha
Liritheoir / Stirthr Laura N Cheallaigh