Cloch Le Carn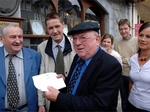 Episode 1 - RTÉ One Monday 23rd March, 7.30pm
Caitheann Cloch Le Carn súil siar ar shaol agus ar shaothar Jackie Healy-Rae, polaiteoir cróga agus Ciarraíoch go smior a chuaigh ar shlí na fírinne ar an 5ú lá de mhí na Nollag 2014.
Cloch le Carn looks back at both the personal and political life of the wily Independent politician, Jackie Healy-Rae. His daughter Rosemary remembers fondly the Healy-Rae home in Kilgarvan that was filled with her father's storytelling and music. She also speaks of his bitter disappointment at not being nominated by Fianna Fáil, the disappointment of Bertie Ahern refusing to come to his aid and the bursting pride the day he took his seat in the Dáil for the first time.
'He loved Christmas as we all did. It started at the beginning of December and he's be telling stories of how he met Santa on the Bog Road.'
'That time when he didn't get the nomination, I think it's safe to say that he was devastated. He had stood back in the wings all those years, and then when it came around to what he saw as his turn, he was dropped' Rosemary Healy-Rae
Jackie Healy-Rae worked tirelessly for Fianna Fáil over several decades, delivering many election victories for the party. He broke ranks with them in 1997 having failed to get a nomination to contest the general election in Kerry South and won a seat as an Independent. Victory was sweet revenge for Jackie, and when Bertie Ahern sought his support to form a government, Jackie presented him with a long list of demands for his local area.
Risteard Ó Lionáird worked closely with Jackie on all of his campaigns. He recalls that while Bertie Ahern was courting Jackie's support, Fine Gael were offering their own sweeteners in an effort to woo the south Kerry politician. John Bruton's rainbow coalition offered him a position in Cabinet as Minister for Agriculture. In turn he used this offer to gain even more concessions from Bertie.
'We went out to St. Luke's where Celia Larkin was waiting for us. She told us she had the kettle on'
'We got Fine Gael to send a fax to Jackie, outlining their offer and this fax was used in the talks
with Fianna Fáil, to make sure all the important demands were granted' Risteard Ó Lionáird
Former Taoiseach, Bertie Ahern remembers Jackie with great affection. He recalls the rivalry between John O'Donoghue and Jackie Healy-Rae, both from the same political patch and both obsessed at being the first to claim credit for an local good news story, a rivalry which caused John O'Donoghue some stress and anxiety.
'All of Jackie's issues were local issues , the bends , the crossroads'
'John (O'Donoghue) would go ballistic and attack some cabinet colleague for giving him (Jackie Healy-Rae) the information beforehand'
Bertie Ahern, Former Taoiseach,
Presenter/Reporter: Pádraig O Driscoll
Producer/Director: Seán Ó Méalóid
Episode 2 - RTÉ One Monday 23rd March, 7.30pm
There's not many people whose name, over six decades, became a by-word for protest, sectarianism, even bigotry; who have ignited such passionate support and opposition in equal measure; founded their own Church and Political Party and in their eighties performed an Olympic political volte face to share power with lifelong enemies - Rev. Dr. Ian Kyle Paisley is the focus of CLOCH LE CARN with a "no holds barred" look at the life of the Former First Minister of Northern Ireland with rare archive and insights from former Taoiseach Bertie Ahern, Professor of Modern Irish History Diarmaid Ferriter together with Éamonn Ó Cuiv TD & Mary Hanafin who were among the select invitees to his Memorial Service in the Ulster Hall.
1926, Ian Paisley was born in Armagh to a Scots mother and an Ulster Baptist preacher father and like him or loathe him, what cannot be denied is that he made a mark on our country, but maybe not always in a good way. He originally rose to prominence as a fundamentalist preacher in the evangelical Protestant circuit. Even early on it was clear he was a force to be reckoned with. Originally Paisley took to the streets as much against the ruling Unionist party & ecumenism as against Civil Rights marchers. He put the protest back into Protestant and was jailed for his actions - adding fuel to his fire. One after the other, he saw off any attempt at compromise with nationalists. All the while fomenting sectarian strife and many would believe, inciting tit for tat loyalist and republican violence. Sunningdale; The Anglo-Irish Agreement; The Downing Street Declaration and The Good Friday Agreement Paisley opposed them all and continued the politics of "No Surrender" until he took over the lead position in Unionism having beaten and defeated the UUP - only then did he change and very dramatically.
QUOTES FROM PROGRAMME:
"The name Paisley became synonymous with the Troubles and sectarianism .he's associated with demagoguery, the fire- brand speeches, the constant iteration of "No, no, no!" and "Never, never, never!". " Prof. Diarmaid Ferriter
"My father hated the man." Bertie Ahern, Former Taoiseach.
"There's a very large ego at work, with a huge emphasis on the idea of a biblical literalism that this is the protestant bible as Paisley sees it and it's not just about religion, ultimately it's about politics." Prof. Diarmaid Ferriter
"I didn't like anything about him, I considered him to be someone who was stirring up trouble. I was doing my Leaving when he took issue with the civil rights movement, and at that time the civil rights movement was only about housing and welfare; educational opportunities for Catholics and nationalists in the North and it seemed unreasonable for him to take up an extreme position, more extreme than William Craig and others at the time." Bertie Ahern, Former Taoiseach
"There's also a strategy underpinning this which is ultimately about the quest to be the dominant voice within unionism. Any mention of the possibility of accommodation with the other political tradition, with the minority nationalist community is responded to with denunciation, the idea - that traitors and bridges are the same, they both go over to the other side." Prof. Diarmaid Ferriter
"Tá a fhios againn go ndeireann go leor do na hiar pharamileataí dilseachta gurab é faoi ndear iad a dul amach i mbun foréigin." Póilín Ní Chiaráin - Saor Iriseoir (" we know that a lot of the former loyalist paramilitaries say he was the reason they took to violence")
"They (The DUP) knew if they were the biggest party they had to be more positive, they couldn't just be Ulster says no, the DUP says no, everyone says no to everything.... The one thing he kept saying to me was that if you show there is absolutely no change in the constitutional position, then I can do business." Bertie Ahern, Former Taoiseach
Reporter / Presenter - GARRY MAC DONNCHA
Producer / Director - KEVIN CUMMINS