Catherine's Family Kitchen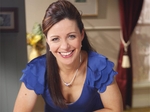 In this series Catherine Fulvio is returning from her Italian travels to her Wicklow roots to reinvent Irish family cooking. She's combining her two favourite passions - cooking and teaching.
Steeped in the Italian tradition, Catherine knows how good food brings family and friends together and she'll be using the best of Irish ingredients to create great food for dinners, picnics, barbecues and birthday parties.
From a sumptuous Sunday lunch to tasty meals in minutes, glamorous dinner parties to handy freezer food, Catherine's Family Kitchen will give every Irish family ideas and tips on how to create easy, tasty recipes that still impress.
The series will cover practically every family occasion starting with Sunday Lunch when Catherine cooks up a delicious roast beef, but with an Asian influence. Or what about a fast and easy Lemon Mousse with Strawberry Swirls when surprise guests come round? Barbecues are taken care of with her Tandoori Lamb Burgers while Picnics become a real occasion with freshly baked Pesto Pinwheels.

A dinner party at Ballyknocken calls for Mustard and Herb lamb cutlets and parents get the special treatment at her daughter Charlotte's Birthday Party with Vietnamese Beef Salad. Catherine fills her good friend Georgina's freezer with a delicious fruit crumble and finally the series ends when the whole Fulvio family head off on holidays to Washington to cook for a host of US politicians!
Episodes
Episode 1: Sunday Lunch
Catherine's Family Kitchen begins with Sunday Lunch. With the hectic lives everyone leads, Sunday is in danger of becoming just another work day. But the Fulvio family make an effort to sit down, relax and break bread together. Catherine has also invited her sister Eithne and her family round and she starts off with Thai style fish cakes with Spicy Sesame dipping sauce followed by Roast Beef - but this is Oriental style served with roasted sweet potatoes and peppers and tasty Stir fried Green Beans.
And it's all finished off with her tasty thyme infused Raspberry and Chocolate Meringue Tower.
RTÉ One, Friday 9 Spetember, 8.30pm
Other Catherine Fulvio Programmes: