Who's Buying Ireland?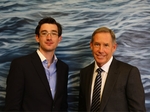 Ireland is up for sale. It's being sold cheap and at bargain basement prices. But just Who's Buying Ireland? Tens of billions of euro in Irish assets are up for grabs: shopping centres and housing estates, hotels and golf courses. Some are big investors, others small players. But, nearly all are foreign.

In Who's Buying Ireland?, award-winning financial journalist, Ian Kehoe, hits the documentary road to meet the big international investors: men like Bill McMorrow from U.S. real estate company, Kennedy Wilson, who are now Dublin's largest commercial landlords. Then there's London-based Tim Martin, pub magnate owner of the J.D. Wetherspoon chain, who's keen to snap up some Irish bars.

Yet there are greater buys than property at stake. Michael Hasenstab, through Californian investment firm Franklin Templeton, has bought ten billion euro worth of Irish government debt. New York-based billionaire, Wilbur Ross, nicknamed the King of Bankruptcy, made his fortune scouring the globe for distressed assets. He now has a huge stake in the Bank of Ireland.

If the last five years were the story of Ireland's economic bust, what does the recent flurry of foreign sales herald? And has the tide really turned when even Irish investors, like recent CHQ investor and former CEO of Coca Cola, Neville Isdell or Berlin-based Luke Comer, see Ireland ripe for the picking?

It raises some serious questions: is this flight of money into Ireland a good thing, or are overseas investors merely profiteering from Ireland's economic calamity?