Brent Pope's Habitat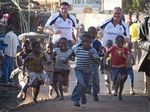 Last summer Ireland's favourite Kiwi and RTÉ rugby pundit Brent Pope launched the 'Brent Pope Rugby Legends Foundation'. The aim was simple: to get former rugby players and fans to build houses for the poor in Africa with Habitat for Humanity.
Together with Ireland rugby legend Malcolm O'Kelly (all 6'8" of him!) Brent travelled to Zambia to find out first hand what Irish volunteers can do to help real people on the ground.
Join Brent and Malcolm as they put on their builder's hard hats and get stuck in to building a new home for an impoverished family. Get to see first hand the good work that is carrried out by Irish Volunteers and meet some families that have benefitted from new builds. Brent and Mal also take the chance to give something back from the game they love when they coach a bit of rugby with some young Zambians.
About Habitat for Humanity:
Habitat is the world's largest Home builder (400,000 homes built since 1976) and has housed almost 2 million people as a result.
Unlike many NGOs it does not just give handouts but forms partnerships with people in need of a home and its volunteers work alongside the home owner who in turn pays a modest mortgage for their new home.
Find out more at www.habitatireland.ie
RTÉ One, Saturday, 3.50pm