The Bórd Gáis Energy Irish Book Awards 2012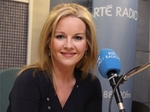 For the second year running, RTÉ Television will be broadcasting the highlights of the Bórd Gáis Energy Irish Book Awards on RTÉ One on Saturday 24 November. The Bórd Gáis Energy Irish Book Awards is one of the biggest celebrations of Irish writing and many of Ireland's most celebrated and loved authors will be in attendance. RTÉ's Claire Byrne and John Murray will present the event.
The 2012 Bórd Gáis Energy Irish Book Awards shortlist features a host of internationally renowned Irish authors including John Banville, Edna O'Brien, Emma O'Donoghue, Joseph O'Connor, Cecelia Ahern, Tana French and Kevin Barry, and a wide range of memoirs from Irish political and sporting figures including former president Mary Robinson, Senator David Norris, sporting commentator Jimmy Magee, Olympic star Katie Taylor and rugby legend John Hayes.
This year sees a brand new category added to the Bórd Gáis Energy Irish Book Awards - the 'Avonmore Cookbook of the Year' - which celebrates the wealth of food writing on our island. Nominees for this year's inaugural award are Rachel Allen, Donal Skehan, Domini Kemp, Catherine Fulvio, Neven Maguire and Aoife Carrigy.
This is the seventh year of the Bórd Gáis Energy Irish Book Awards, which are dedicated to honouring Irish writers across the entire publishing spectrum. The full shortlist, outlined below, was selected by a panel of industry experts. The awards were open to any title published between 1st November 2011 and 31st October 2012.
The public are being asked to cast their vote on the best books of the last year via the Bórd Gáis Energy Irish Book Awards website www.irishbookawards.ie. Votes can be cast until midnight 18 November 2012 and the winners will be announced at a gala event in Dublin's RDS on Thursday, 22 November. Highlights of the 2012 awards ceremony will be broadcast on RTE1 on Saturday 24th November, straight after The Saturday Night Show.
The Shortlists
Joe's latest book Where Have You Been? (€14.99 for trade paperback and €18.99 for hardback) is his first book of short stories in 20 years. Mostly set now, dealing with current issues post-Celtic Tiger. Had written 3 historical novels over last 10yrs so it was a challenge he set himself to tackle this - his way of contributing to the debate about where are we & where are we going.
Where have You Been? Has been shortlisted for the Eason Irish Novel of the Year . Other books in his category are:

Eason Irish Novel of the Year:
. Astray by Emma Donoghue (Picador)
. Dark Lies the Island by Kevin Barry (Jonathan Cape)
. Ancient Light by John Banville (Viking)
. The Light of Amsterdam by David Park (Bloomsbury)
. Where Have you Been by Joseph O' Connor (Harvill Secker)
. Hawthorn & Child by Keith Ridgeway (Granta)
RTÉ Radio 1's The John Murray Show Listeners' Choice Award:
. Just Mary by Mary O' Rourke (Gill & Macmillan)
. Run Fat B!tch, Run by Ruth Field (Sphere)
. Bring Up the Bodies by Hilary Mantel (Fourth Estate)
. The Paris Wife by Paula McLain (Virago)
. All in My Head: The Autobiography by Lar Corbett (Transworld Ireland)
. Broken Harbour by Tana French (Hachette Books Ireland)
The Ireland AM Irish Crime Fiction Book of the Year:
. Vengeance by Benjamin Black (Mantle)
. The Istanbul Puzzle by Laurence O'Bryan (Avon)
. Too Close for Comfort by Niamh O'Connor (Transworld Ireland)
. Red Ribbons by Louise Phillips (Hachette Books Ireland)
. Broken Harbour by Tana French (Hachette Books Ireland)
. Slaughter's Hound by Declan Burke (Liberties Press)
Avonmore Cookbook of the Year:
. Cake by Rachel Allen (Collins)
. Kitchen Hero: Great Food for Less by Donal Skehan (Collins)
. The MacNean Restaurant Cookbook by Neven Maguire (Gill & Macmillan)
. Domini at Home by Domini Kemp (Gill & Macmillan)
. Eat Like an Italian by Catherine Fulvio (Gill & Macmillan)
. ICA Cookbook by Aoife Carrigy (Gill & Macmillan)
The Argosy Irish Non-Fiction Book of the Year:
. The Good Room by David McWilliams (Penguin Ireland)
. A Kick Against The Pricks: The Autobiography by David Norris (Transworld Ireland)
. Country Girl by Edna O' Brien (Faber and Faber)
. Everybody Matters by Mary Robinson (Hodder & Stoughton)
. Just Mary by Mary O' Rourke (Gill & Macmillan)
. Atlas of The Great Irish Famine by John Crowley, William J. Smyth and Mike Murphy (Cork University Press)
Eason Irish Popular Fiction Book of the Year:
. A Week in Winter by Maeve Binchy (Orion)
. This Child of Mine by Sinéad Moriarty (Penguin Ireland)
. The Mystery of Mercy Close by Marian Keyes (Michael Joseph)
. The House on Willow Street by Cathy Kelly (Harper)
. One Hundred Names by Cecelia Ahern (Harper)
. This Is How It Ends by Kathleen MacMahon (Little Brown)
. Better Together by Sheila O'Flanagan (Headline)
. The Charm Bracelet by Melissa Hill (Hodder & Stoughton)
Lifestyle Sports Irish Sports Book of the Year:
. My Olympic Dream by Katie Taylor (Simon & Schuster)
. My Journey by Jim Stynes (Penguin Ireland)
. Cliffs Of Insanity: A Winter On Ireland's Big Waves by Keith Duggan (Transworld Ireland)
. The Bull by John Hayes (Simon & Schuster)
. Memory Man by Jimmy Magee (Gill & Macmillan)
. The Great and the Good by John Giles (Hachette Books Ireland)
Sunday Independent Best Irish Newcomer of the Year:
. The China Factory by Mary Costello (Stinging Fly)
. The Crocodile by the Door by Selina Guinness (Penguin Ireland)
. The Spinning Heart by Donal Ryan (Doubleday Ireland/Lilliput)
. Tyringham Park by Rosemary McLoughlin (Poolbeg Press)
. This Is How It Ends by Kathleen MacMahon (Little Brown)
. We Have a Good Time Don't We? By Maeve Higgins (Hachette Books Ireland)
International Education Services Best Irish Published Book of the Year:
. At War with the Empire by Gerry Hunt (The O'Brien Press)
. And Time Stood Still by Alice Taylor (Brandon Books)
. Triggs by Paul Howard (Hachette Books Ireland)
. Tyringham Park by Rosemary McLoughlin (Poolbeg Press)
. Atlas of the Great Irish Famine by John Crowley, William J. Smyth and Mike Murphy (Cork University Press)
. Isn't it Well For Ye?: The Book of Irish Mammies by Colm O'Regan (Transworld Ireland)
Specsavers Irish Children's Book of the Year:
Junior Category
. Guess How Much I Love You: Here, There and Everywhere by Sam McBratney and illustrated by Anita Jeram (Walker Books)
. Oh no, George! by Chris Haughton (Walker Books)
. Adam's Greatest Inventions by Benji Bennett (Adams Printing Press)
. This Moose Belongs to Me by Oliver Jeffers (Harper Collins Children's Books)
Senior Category
. Artemis Fowl: The Last Guardian by Eoin Colfer (Puffin)
. The Terrible Thing That Happened to Barnaby Brocket by John Boyne (Doubleday Children's)
. Zom-B by Darren Shan (Simon and Schuster)
. Rebecca's Rules by Anna Carey (The O'Brien Press)
. Leave it to Eva by Judi Curtin (The O'Brien Press)
. Kingdom of the Wicked by Derek Landy (Harper Collins Children's Books)
The Bord Gáis Energy Bookshop of the Year
. Ulster Region: Crannóg Bookshop, Cavan Town
. Munster Region: O'Mahony's of Limerick
. Leinster Region: Bridge Street Books, Wicklow Town
. Connacht Region: The Reading Room, Carrick on Shannon
. Greater Dublin Region: The Gutter Bookshop, Temple Bar
RTÉ One, Saturday, 11.00pm