Blast: Beat TV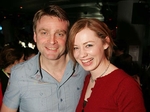 Blast:Beat TV is a brand new series following transition year students as they set up a mini music company, sign a band and compete against peers from around the country to win the Blast:Beat TV Battle of the Bands.
The Blast:Beat scheme runs in secondary schools the length of the school term, September to May, as transition year students aim to see if they can cut it in the music business. Our cameras are there to follow four featured mini-companies as they find bands, stage concerts, record tracks in studio, promot and sell CDs, and compete to win in the national final of Blast:Beat TV.
Featuring transtition year students from Castletroy Community College in Limerick, Blackrock College in Dublin, The Ursuline Convent in Sligo and Sacred Heart College in Omagh, the lucky participants not only get a real insight into the world of the music industry, they also benefit from the advice of two top industry professionals, Bren Berry of Aiken Promotions and Siobhan O'Dowd of Pod Concerts/Electric Picnic.
Blast:Beat TV is based on a Department of Education and Science approved transition year scheme that introduces students to the cut-throat world of the music business.