Big Wave Bootcamp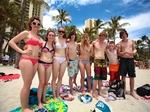 This week, our 8 Irish surfers are off to the World famous Waimea Bay to build their confidence.
They're going to be out of their comfort zone in the Diamond Head waves so Ken is keen to see exactly what they're made of.
To begin with, a cave swim which means they will have to hold their nerve, and their breath swimming underwater in choppy waters whilst trying to work out where they're going.
Followed by the Waimea Jump Rock - which all surfers use to prepare for massive wipeouts - something they're very likely to encounter in this week's Wave Challenge.
But as the day draws to a close, has Jack pushed himself too hard and will he be able to continue on the course?
And for the first time, the teens are split up as they stay the weekend with their new local friends Hawaii style - this is their first taste of how teens live on the Big Island - and it's very different from life back home.