Ballymun Lullaby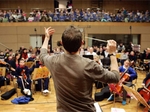 Music teacher Ron Cooney has been working in the Republic of Ireland's only high-rise housing estate for fifteen years. During this time he has seen the area undergo a dramatic transformation, including the demolition of six of its seven tower blocks. The young people of Ballymun have had an extraordinary experience, and Ron sets out to produce a collection of music that gives voice to their story. Working with composer Daragh O'Toole, Ron's ambition is to create a 'world class' collection of music for his talented students to play and write lyrics for. This music will challenge the negative views many still hold of the area - views that have the potential to hold his students back, and undermine the aims of the Ballymun Music Programme.
The music that is produced attracts the attention of the RTÉ Concert Orchestra, and is soon recorded by them in a unique collaboration with the students. A dynamic funny and driven man, despite his own health problems, what Ron and his students have achieved is simply amazing.
Winner of the Directors Guild of America 'Directors Finders' Series 2011, facilitated by?the Screen Directors Guild of Ireland
Pulp Productions Presents: Ballymun Lullaby
A Documentary Directed by Frank Berry
"If anyone had felt minded to hand out a prize for the most enthusiastically received picture, Ballymun Lullaby would have been a hands-down winner. Frank Berry's stirring documentary offers a cheery portrait of Ron Cooney, the inspiring music tutor behind the Ballymun Music Programme. A behind-the-scenes account of the making of a 2009 EP, the film recreates the area's famous sense of community, with lively contributions from composer Daragh O'Toole, former Dublin 11 resident Glen Hansard and talented students Tara, Wayne and Darren."
- The Irish Times
"Ballymun Lullaby is a gentle heart-warming documentary centred on the inspirational music teacher Ron Cooney who teaches children music in the Ballymun Music Programme."
- Film Ireland
"It's really beautiful, full of optimism and so charming to watch."
- Sile Seoige, Newstalk
"Stirring, inspiring, insightful, it just blew me away".
- Gareth O'Callaghan, Classic Hits 4FM
"Ballymun Lullaby is the awe-inspiring account of Ron Cooney, the inspirational music teacher in the Ballymun Music Programme."
- Cork Film Festival
'Ballymun Lullaby has been a labor of love for all of us. It documents a community initiative that I believe is socially very important and I'm really proud that it's getting a cinema release.'
- Frank Berry - Producer/Director
Watch the Trailer for Ballymun Lullaby here......
Website: www.ballymunlullabythefilm.com
RTÉ One, Tuesday, 10.15pm