A Time To Die?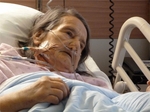 Over the last two years, Yellow Asylum Films have been following the stories of Irish people who wish to end their lives by assisted death or euthanasia.
It is a dark and difficult world to access - for assisting someone to end their life remains a serious criminal offence (although suicide itself was decriminalized in 1993).
In the coming weeks, Tom Curran and his partner Maire Fleming (who suffers from Multiple Sclerosis) will take a landmark right-to-die action in the High Court. Ms. Fleming wishes to have the right to end her life with assistance of Mr. Curran - without the risk of his being liable to prosecution. The documentary talks with Tom Curran and a number of other Irish people who wish to choose the time of their dying. It also travels to Dignitas in Switzerland as well as to a palliative unit in a Catholic-run hospital in Belgium providing euthanasia alongside hospice care.
We also meet the Catholic philosopher and humanitarian Jean Vanier who is vigorously opposed to any form of assisted death.
Fundamentally, the programme is an intimate and sensitive look at a morally, ethically and legally challenging issue, but one that is increasingly entering the realm of public debate.
Yellow Asylum's previous productions for RTÉ include The Hospice, The Asylum, The Home and I See a Darkness.