Arts Lives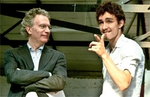 RTÉ's acclaimed Arts Lives series returns with three new documentaries covering an eclectic mix of writers, sculptors and artists.
Episodes
Episode One:
The last 25 years has seen a noticeable increase in the number of permanent public sculptures in our towns, housing estates and roadways.
How do these pieces get commissioned? Who is this art for? Who are the artists?
In this engaging documentary Joe Duffy explores the colourful and controversial area of public art. Around Dublin and beyond, Joe meets the curators who decide on the sculptures in our streets and parks, the artists who make them, and the public who love and hate them.
Some of the best loved and less loved pieces of public sculpture feature in the programme, including Dublin's most famous piece, the 'Anna Livia', as she makes a dramatic return to the banks of the River Liffey.
Episode Two:
Since his introduction to theatre by his father Sam, a bus driver and amateur actor, the writer Fintan O'Toole has sworn by great plays which reveal the truth about our society.
And throughout his career in Ireland and the USA as a critic, biographer and columnist, he has made passionate, provocative connections between the way we live and the theatre we make and watch.
Joined by internationally acclaimed director Garry Hynes and actors Tina Kellegher, Garret Lombard, Sean McGinley, Marie Mullen, Roxanna Nic Liam and Robbie Sheehan, he takes a fresh look at the thrilling occasions when Irish theatre which touched a raw nerve.
From Sean O'Casey's looters and prostitutes on the edge of a revolution, through John B. Keane's murderous inhabitants of 'The Field' and Sebastian Barry's portrait of a chillingly familiar ex-Taoiseach, playwrights engaged passionately with the world outside the theatre walls.
So what happened to theatre during the Celtic Tiger?
And will playwrights rise now to the challenge of dramatising a society in crisis?
RTÉ One, Tuesday, 10.15pm