Arrivals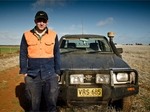 In January 2011 RTÉ One screened Departure Day, a compelling documentary account of five Irish families facing emigration due to Ireland's crippling economic recession. Almost a year later, Arrivals travels to Canada and Australia to see just how this new wave of emigrants is faring-whether the hope of finding a successful working life abroad, despite the loss of family and friends, has been realised, and to what cost.
Featured in the documentary are Limerick businessman Declan Murphy and his young family who closed up their 120-year-old family clothing store in Newcastle West for a new life in Sydney. Stephen Martin and Heather Leahy left Meath with a new baby and toddler for the cold of Toronto and rented accommodation in suburban isolation. Larry Fay departed rural Meath for the Australian outback, while Aaron Hogan from Tipperary still depends on labouring jobs near off-season Bondi Beach. All emigrated from Ireland to escape unemployment and financial dead ends in what looked like a reprise of the 1980s. But one year on, and between 5,000 and 10,000 miles away from home, is life really any better?
The Murphy family from Newcastle West, Co. Limerick, were forced to emigrate following mounting debts at their 120-year-old clothing store. As the national economy struggled and local jobs disappeared, customers for clothing drifted away. They left Irish shores and aging parents in December 2010 without the promise of return.
Unemployed electrician Larry Fay is from a small rural village in Co. Meath. He left Ireland in August 2010 determined to find work in the bright lights of Melbourne, Australia. With only a year long visa, his quest to secure employment hasn't been plain sailing. In order to gain a second year's stay he's working on an isolated Australian outback farm that is miles from the possibility of making new friends or much money.
Carpenter Stephen Martin and wife Heather Leahy realised they would struggle to bring their children up in Ireland on Stephen's dwindling wages and reduced work hours. They made the difficult decision to move their family to Canada where the standard of living, education and health system promised to be better. But without friends and family near to help the young mother and toddlers, life isn't as easy as imagined.
25-year-old Aaron Hogan from Cahir, Tipperary used to work in the Irish construction industry. When the recession hit, he found a minimum-wage job in a local meat factory but there were few prospects for advancement. Then his unemployed friends began heading to Australia and Aaron decided to follow suit. Much of their social time is spent on the off-season Bondi strip. The worry is, with so many Irish working in local Sydney construction, can the new Irish emigrants ever up-skill enough to find work back home?