A Grand Experience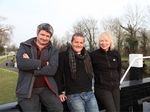 A Grand Experience charts a journey by three artists - writer Eugene O'Brien, musician Wayne Brennan and photographer Veronica Nicholson - along the Grand Canal on board an original 68 metre Grand Canal barge.
As they travel through Ireland's midlands, they rediscover a lost Ireland, a deep sense of history and heritage and a community that, in spite of the worst ravages of the recession, is thriving and embracing its own uniqueness and talent.
Their challenge - to create an artistic response to the people and places they encounter on their journey. This is a visually stunning travelogue which brings viewers on a timeless journey through an unspoilt and enduring part of Ireland.
RTÉ One, Tuesday, 10.15pm