Abhainn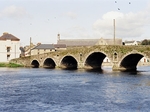 Episode 1 ABHAINN:
ABHAINN: begins the journey close to the source in the Glen of Imaal in a restricted area within the artillery range of the Irish Defence Forces. The army uses the the river in preparation for overseas missions but as well the Defence Forces have carried out conservation work to improve the salmon spawning beds in the area.
The Slaney meanders its way south passing through the town of Baltinglass before reaching Rathvilly just over the Carlow border. Next is Tullow where the local Kayak club bring colour and life to the river, before arriving at what must be the jewel in Ireland's gardening crown, Altamont Gardens - an enchanting blend of formal and informal gardens with riverside walks.
Downstream artist Mark O'Neill lives in the breathtaking Mill House by Kilcarry Bridge and wakes up to the sounds of the flowing river every morning. The Slaney is an inspiration to Mark, as reflected in his mysterious 'Black Slaney' painting.
Crossing into Wexford, the Slaney flows thorough Bunclody. The town has its own stories from the 1798 rebelllion. We catch up with Canon Séamus de Vál who tells us that skeletal remains of soldiers killed in '98 were unearthed during restoration works on the bridge in 1875.
The second largest town on Slaneyside, Enniscorthy. Dominated by the impressive town castle overlooks the now tidal river. Although vast, the Slaney is very shallow between Enniscorthy and Wexford town, but if navigation is not easy the views from the river are stunning.
Under the bridge at Ferrycarrig, the Slaney finally arrives at Wexford town, which would have been a busy port 100 years ago but declined because of the constantly shifting sands of Wexford Harbour.
Presenter / Reporter: Garry Mac Donncha
Directed by: Colm Kirwan
Abhainn - An tSlá­ne
Is ­ an tSláine ceann de na haibhneacha is tábhachtaigh agus is áille i gCúige Laighean. Ag eir­ ar Log na Coille i Slébhte Chill Mhantá­n, sn­onn s­ ó dheas ar chúrsa 117km tré chondaetha Cill Mhantáin, Ceatharlach agus Loch Garman sula dtéann s­ i bhfarraige i gCuan Loch Garman agus Muir Éireann.
Tosna­onn muid ár naistear i nGleann Ó Máil, i ngar do fhoinse na Sláine, san áit a gcuirtear Arm na hÉireann ar inl­ocht chomh maith le úsa­d gunna­ a chleachtadh.
Ó dheas linn ansin tré Bhealach Conglais sula dtrasna­onn an tSláine an teorainn isteach go Ceatharlach agus baile Ráth Bhile. Sroicheann muid an Tulach ansin á­t a bhaineann an cumann cadhcóireacht áitiúl leas as an abhainn. Cúple m­le ón Tulach tá Ga­rd­n­ Altamont, ceann de sheoid­n­ an chondae atá anois faoi chúram Oifig na nOibreacha Poibl­.
Tá cóna­ ar an eala­ontóir Mark O'Neill ar chiumhais na habhainn i spota f­ór-álainn agus tá tionchar na háilleachta sin le feiceá­l ina chuid oibre.
Trasn­onn an tSlá­ne teorainn condae eile ansin, an uair seo Loch Garman agus casann muid leis an gCanónach Séamus de Vál i mBun Clóid­ a labhrann faoi cnámhacha daonna a friteadh sa droichead le linn obair ath-thógála. Tá iarsmai na staire le braith ar feadh an chúrsa agus tá sé sin an fheiceáilach i mbaile Inis Córthaidh, an dara baile is mó sa chondae, a tógadh timpeall ar chaisleán niamhrach gar don ahbainn. Labhrann muid le Aidan Ryan, fear atá ina chóna­ ar bhruach na habhann, faoin stair á­tiúl.
Caitheann muid seal ar an uisce freisin i dteannta David Maguire idir Inis Córthaidh agus cuan Loch Garman, agus tá sé suntasach cé chomh héadomhain agus atá an tSláine in áiteacha. Ar deireadh sroicheann muid ceann scr­be ag baile Loch Garman áit a chloiseann muid faoi laoch á­tiúl, John Barry, nó 'Athair Chabhlach Mheiriceá'.
Láithreoir / Tuairisceoir: Mac Donncha
Stiúrthóir: Colm Kirwan
Episode 2 ABHAINN: An Bhanna
The River Bann rises in the magical Mourne Mountains in Co. Down and if as a little stream it turned east it could reach the Irish sea within a few miles at nearby Kilkeel. But fate and geography dictate otherwise and the "wee" Bann swings west north west to become the longest river in the North over 130kms brings it through the heartland of Ulster and on this journey, both on the water and from the air, we get a glimpse of a hidden countryside.
A river of two halves - The Upper and Lower Bann each have their own distinct character and in between - Lough Neagh - so big it has its own horizon! - is the largest fresh water lake in these islands. World famous for its eel fishery, the bed of the Lough gives up some of the best sand around with sand barges plying to and from the pumping grounds daily. The shores of the Lough are rich in music and history. It's said that it was here that the "Red Hand" of Ulster originated at the seat of the O'Neill Clann at Shanes Castle, near Randalstown. Today, maybe more renouned as a film location for "The Game of Throwns", Shane's Castle Estate is still home to Lord O'Neill and his family. " The O'Neills claim to be the oldest traceable family in Europe going back to 360AD" according to Lord O'Neill. Both he and his son Shane, who has taken on the management of the huge estate, talk about the delights and challenges of being the incumbant of such an ancient heritage.
Rams Island on Lough Neagh was a private getaway for the O'Neills but is now leased by them to a local conservation trust. Michael Savage is amoung the many volunteers who have worked tremendously hard to conserve the tremendous biodiversity of the island and to make it more accessible to the public. Dr. Pól Mac Cana gives us a fascinating insight into the issue of invasive species as he looks at the Spanish & Native Bluebells on the Island and how they compete and hybridise.
As well as boats, weirs and locks, this chapter in the ABHAINN: story, has a classic lake shore performance from "Farriers" and the Toombridge song that everyone knows performed by Diane Cannon & Matt McGinn.
Presenter / Reporter : SINÉAD NÍ CHURNÁIN
Director and Executive Producer: KEVIN CUMMINS
Rivers are more than just a geographical feature in our landscapes. For thousands of years rivers have been part of who we are and have shaped what we have become. Rivers have taken on magical, religious, mythical qualities in ancient times. They've been the major transportation routes of old, which opened up the country to newcomers both welcome and unwelcome, they're the motorway network of ancient times. As natural barriers Rivers are and have traditionally marked the borders of tribal territories - often fiercely defended. River crossings have been the venue for many a battle. In later centuries the energy of our rivers have been captured by watermills and hydro electric plants but this intrinsic life force and energy has always been recognised in ancient Irish cultures for whom the rivers were living goddesses.