This new series, presented by architect Hugh Wallace, follows six homeowners who have taken on the task of a lifetime, to transform these derelict properties into comfortable modern homes fit for the 21st century.
All over Ireland, there are derelict properties quite literally rotting to the ground. Country estates, farmhouses, cottages, Georgian buildings – places that once buzzed with life lying empty and falling into disrepair.
This new series, presented by architect Hugh Wallace follows six homeowners who have taken on the task of a lifetime, to transform these derelict properties into comfortable modern homes fit for the 21st century.
Filmed across two years, the series follows every aspect of these mammoth projects as the homes are restored to their former glory. Every high, low and missed deadline is documented as these intrepid homeowners do their bit to save a little piece of our heritage.
From a 110 roomed country estate in Co Mayo, to a 15th century crumbling tower house in Cork, a Cavan Schoolhouse and a North Inner Dublin City Victorian townhouse, each property is steeped in history and presents its own unique challenges when it comes to restoration. With budgets ranging from 30k to a hundreds of thousands of euro, the series features stunning reveals and projects of epic scale, showing just what is possible when homeowners take on the seemingly impossible.
Episode one: Ballinafad House
Bede Tannock has come halfway across the world from Perth, Australia to rescue Ballinafad House in Co.Mayo, built in 1827, from dereliction. He plans to restore Ballinafad House as his and his partner Sandra's home and, in this first phase, as a venue that can generate an income to fund the continued restoration of the house. Bede is a qualified architect and cabinet maker and plans to put his skills to good use as he gets hands-on with work onsite. He has been looking for a major restoration project to take on for the last number of years.
Ballinafad House, situated outside Ballinrobe, Co.Mayo, is an immense property of 110 rooms and 70,000 sq. feet of floor space. Bede's plan to restore certain sections of the house as a usable corridor to generate an income that will fund the continued restoration includes the entrance hall, stairwell & two drawing rooms of the old estate house, plus the later addition of the large dining hall, assembly hall and chapel. He will restore the 12 room wing known as the priests house as their private accommodation. This is a restoration on an immense scale.
Local heritage builder, Nicholas Prins, is onsite working to secure the roof. From experience he knows that the weather in the west of Ireland literally dissolves buildings over time and believes this building is at a dangerous tipping point.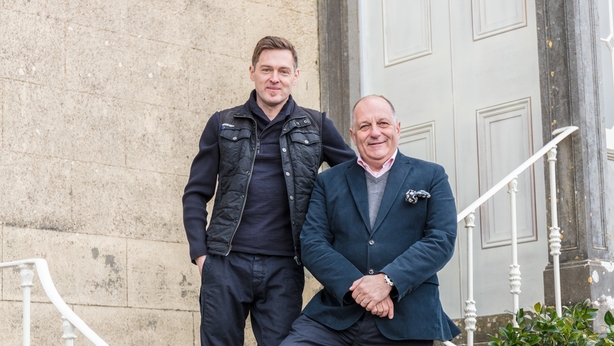 Episode 2: Dublin Townhouse
Murray Rees has always wanted to live in an elegant old townhouse and couldn't believe his luck when he found one he could afford in North Inner City Dublin. Buildings in this area were used as bedsits and had fallen into total disrepair. Murray is keen to save this 1840s building and return it to its full potential. He plans to restore the top 2 floors of the house so that he can live there. The purchase however has wiped out most of Murray's funds.
With only €30,000 left in the budget, he will have to do an awful lot of the work himself. Murray has architectural skills but is not a builder, or a plumber or an electrician. This doesn't faze him. He's doing weekend courses in these disciplines and figures he can skill up in time! He also has his 73 yr old Mum, Marion, who's not afraid to climb out onto the scaffolding to give him a hand! Murray's confidence is impressive but has he bitten off more than he can chew?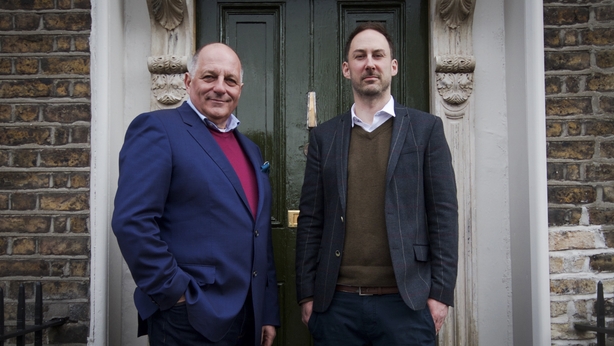 Episode 3 – Cavan schoolhouse
Ronan Fitzpatrick and his fiancé Mary Rahill are restoring a local two-room schoolhouse built in the 1890s as their family home. It has extra significance for Ronan as he and his father before him went to school there as children. The restoration is an ambitious move as this building has been derelict for years and was due to be demolished. It was originally built for functionality not comfort and is situated on the side of the main Dublin-Cavan road creating a noise issue that will need to be resolved. Mary & Ronan hope to complete the project within a year, while planning a wedding at the same time.
Their aim is to keep the main kitchen & living space in the old schoolhouse and build a timber clad extension at the back to give them extra rooms. They are keen to maintain the integrity of the old building while creating a modern, comfortable and stylish home. Ronan is aiming to achieve all this for under €200,000.