Don't Tell the Bride returns for a whopping eighth season. And this year, it's better than ever. Just in case you didn't know, Don't Tell the Bride sees a bride (or in the case of one couple - Victor) hand total control of the wedding over to the groom. The groom has to plan everything from the hen, to the dress, from the stag to the wedding venue. He has to do it all in three weeks and for €10,000.
In this series we have zombies, owls, reindeer and ice rinks. We have disasters in the form of treasure hunts, locations falling through and of course wedding dresses that just don't tick the box. There are tears, there are tantrums and for the first time ever, a possible no show. Don't Tell the Bride is the show we all love to love.
Episode 1 - JENNIFER COOKE (23) AND ROBBIE WALL (29)
Seven years ago, Jennifer and Robbie met one another on a night out with friends in Callan, Co. Killkenny. Robbie made the first move. He never had one moment of doubt and knew she was the one the minute they met. They love to spend as much time together as they can. Robbie is a GAA fanatic; he plays and coaches Gaelic and Hurling in his local club. As Robbie doesn't drive, Jennifer is the designated driver to all his GAA matches. She attends all his training and league matches, even if that means standing on the sidelines!
Jenny is the boss in this relationship. She is the organiser who drives everything in the household. She wears the trousers, the buck stops with her. Robbie on the other hand has never organised anything in his life, he hasn't even had to buy a pair of socks for himself!
Robbie has a young son Riley from a previous relationship who lives with his mum in England. Christmas is always a special time of year for the family as they head to England to spend it with Riley.
Jennifer has always dreamed of a large traditional wedding in their local church in Callan. Robbie however wants to surprise her with a Christmas wedding in August! Filled with Christmas cheer, Reindeers, a mechanics course and lots of tinsel, can Robbie and his wise men deliver a fairytale winter wonderland or will it turn in to the nightmare before Christmas?
Click here for information on Episode 1 Jennifer and Robbie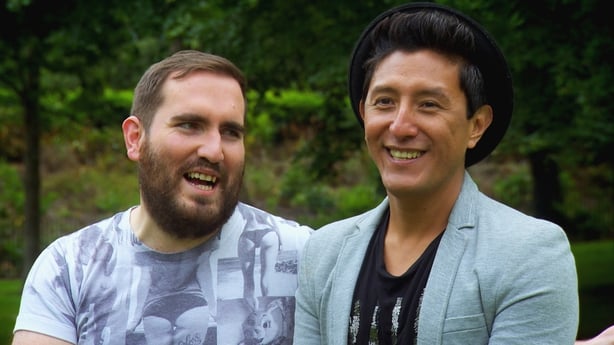 Episode 2 - Victor Garcia (34) and Brendán O'Regan (29)
Victor and Brendán met one another on a night out in The George Nightclub in Dublin nearly two years ago. It was love at first 'shot'. After one drink together, Brendán was introducing Victor to his friends as his boyfriend. Three months in to their relationship Brendán proposed. Since their first meeting, this couple have been loved up and inseparable ever since.
Like chalk and cheese, Brendán and Victor are complete opposites in many ways. Victor is extremely fussy and loves people fussing over him. He organises everything right down to the little details, it's his way or the highway. Brendán sees the wedding as a chance to prove himself and not to be told how to do it!
In this episode, Harry Potter number one fan Brendán, becomes the wedding wizard. But his stylish Mexican partner Victor has never seen the movies! Can Brendán cast Victor under his spell or will the ceremony turn in to a Mexican standoff.
With dragons, cauldrons, Ollie the Owl and broomsticks thrown in to the mix, will Brendán pull off a magical day to impress Victor or will it all end up in a muddle?
Click here for information on Episode 2 - Victor and Brendán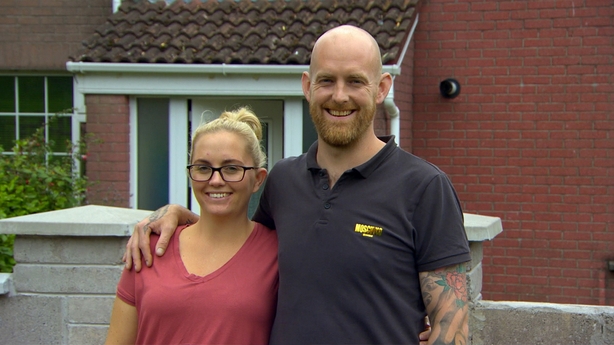 Episode 3 - SARAH O' KEEFE AND NICK GORE
Together 10 years, Sarah and Nick met one another on the sun island of Lanzarote. At the time Sarah and Nick were working and living on the island. Sarah worked in an Irish bar and Nick worked in the Disco bar next door. Every night he would pop in and buy peanuts just so he could catch a glimpse of Sarah.
After nine years together they settled in Mayfield, Co. Cork with their two sons Noah and Cohen with a little baby on the way.
Sarah is known as the boss of the house – even the kids call her the boss! They are complete opposites to one another with Nick taking a back seat and is happy for Sarah to take the lead.
This time round Nick is going to take the reigns and plan their wedding. For this tomboy bride, her biggest fear is that Nick will choose a princess style dress. Something she is dreading! This is their wedding and she does not want Nick to make a joke of it.
But this is not all that Sarah needs to worry about. Blissfully unaware, Nick has some dark powers and is planning a Halloween themed wedding. His vision consists of abandoned buildings complete with cobwebs. With zombies, screams, blood and vegetable pumpkins, will Sarah's dream wedding day turn into a horror story?