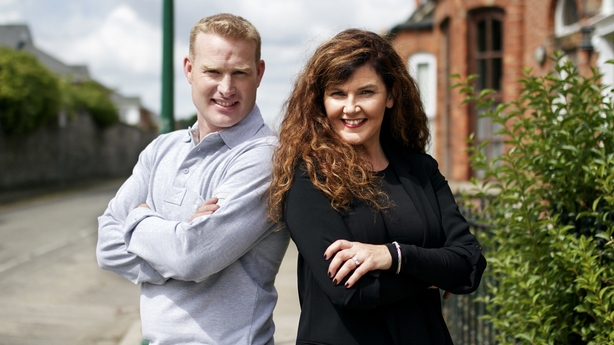 Hoarders, take heart. Desperate Houses – the hit RTÉ One series is back!
Let's face it – as a nation we're loathe to let things go. We drag everything we own from home to home, filling shelves and spare rooms with knick-knacks, excess furniture and old clothes we just don't need. One day, a spring clean will come, but somehow, it never does. Until now.
Each week, architect and designer Róisín Murphy and her team bring order to the chaos of a cluttered home – helping hoarders to let go and designing full makeovers of the two worst rooms in the house with help from IKEA Ireland
In episode one Róisín and the Desperate Houses crew spend three days with Annette from Tallaght, helping her rescue two hopelessly cluttered bedrooms.
Annette (60) has lived in this house for over 20 years. She has raised her 3 children in the house (John, Maria and Michelle). Tragically, after just ten years of marriage when the children were only small, she lost her beloved husband, Michael to a brain haemorrhage at the tender age of 32. And four years ago, she lost her son, John.
Annette loves to hang on to things 'in case' someone close to her might need them. Among the jumble of unused furniture and unworn clothes filling her home, hide precious legacies of the past.
The challenge for Róisín will be to help Annette let go of a huge collection of unwanted items but more importantly, Annette will need help and understanding as she reconnects with lost mementos of the past – giving them pride of place in her home.
This will be a journey fraught with emotion and poignancy that will require delicate handling.
EPISODE ONE - DESPERATE HOUSES - EPISODE ONE – TALLAGHT SUPPLIERS LIST
EPISODE TWO – RAHENY, DUBLIN
Architect and designer Róisín Murphy and the Desperate Houses crew come to the rescue of Glenda, Maurice and their four kids in Raheny, Co. Dublin. At first, the house seems far from desperate, but it soon becomes clear that this otherwise pristine family home hides rooms so filled with clutter, they've become no-go areas.
Behind one locked door lurks the children's 'playroom', filled with a jumble of unused toys and unwanted furniture, there's no space to move, let alone play! And it gets worse.
Upstairs, Glenda's 'wardrobe room' has become a bewildering fashion museum, stuffed with piles of cast offs, rails of unworn outfits and clothes that the kids have long since grown out of. Downstairs, filling up the utility room and the shed in the back garden is a huge collection of broken appliances, random tools and unfinished projects that husband Maurice has never quite managed to get around to.
As the decluttering crew gets to work, Róisín sets about designing the kid's dream playroom (complete with a ceiling swing and a serving hatch) and a proper, grown-up walk-in wardrobe and study room for Glenda, who's about to start college as a mature student.
All this presents quite a challenge for builder Peter Finn and his crew and when Glenda's overzealous dad Mick arrives to help clear out the shed, Róisín finds herself on the wrong side of the decluttering fence – rescuing items from the skip!
EPISODE TWO- DESPERATE HOUSES - EPISODE TWO –RAHNEY SUPPLIERS LIST