MONDAY 27th MAY, 2019
MARY RYAN - MISSING PERSON
Gardaí in Waterford are appealing for information about 54-year old Mary Ryan who has been missing since December 2018. Mary was last seen by her mother around 2.30pm on Saturday the 15th of December in Connolly Place, Waterford City.
Mary lives at Closegate in Waterford City and when a neighbour hadn't seen her for a few weeks they became concerned and raised the alarm. Mary was due to collect a social welfare payment on the 18th of December, but failed to do so and has not collected any payments since. Her family are very concerned for her well-being and safety.
Mary is tall (6 foot), slim and walks with a long confident stride. She has short brown hair which she usually wears with a headband. She often wears leggings, polo neck jumpers and army style boots.
Appeal points
Do you have any information about Mary's disappearance, if so please come forward.
If you see Mary or anyone matching the above description please contact Gardaí.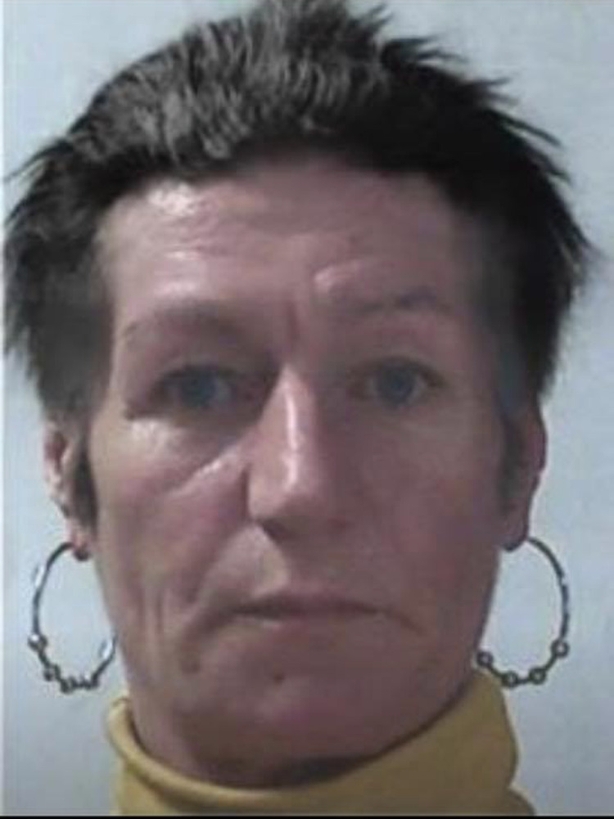 MURDER OF GIEDRE RAGUCKAITE
Gardaí in Dundalk are investigating the murder of 29-year old Giedre Raguckaite. Geidre is a Lithuanian woman who had been living in Ireland since March 2018.
When Giedre first came to Ireland she secured accommodation in Drogheda, Co.Louth for a few weeks before moving to Dundalk. She moved out of her accommodation in College Heights, Dundalk on the 23rd of May.
Giedre was last seen on Tuesday the 29th of May in Laytown, Co.Meath. She was seen being accompanied into a house in Laytown that night at 11pm by two men. It is suggested that she was intoxicated and Gardaí believe she left that house with these men at about 1.45am on 30th May 2018. There has been no sightings or contact with Giedre since that time.
Appeal
Did you see Giedre out socialising on the 29th of May?
Did you engage with Giedre or provide her with accommodation from the 23rd to the 29th May? Or are you aware of anywhere she stayed during this period?
Do have or know where Giedre's personal items are?
Did you see Giedre in the company of two males on the evening of the 29th of May 2018 or after?
If you have any information about Giedre's activities from the 23rd to the 29th of May to please contact Gardaí.
Description
Giedre is described as approximately 1.67 meters in height, of thin build, with blonde hair, pale complexion and green eyes.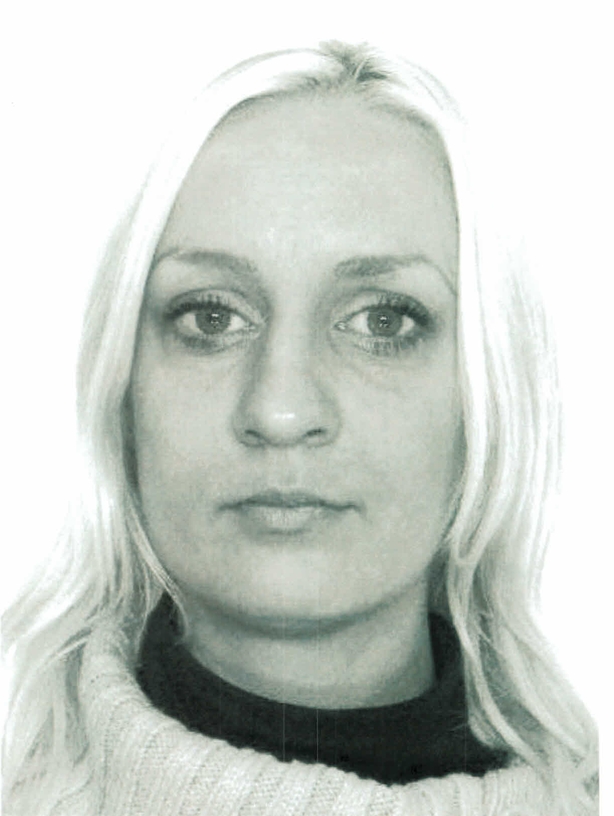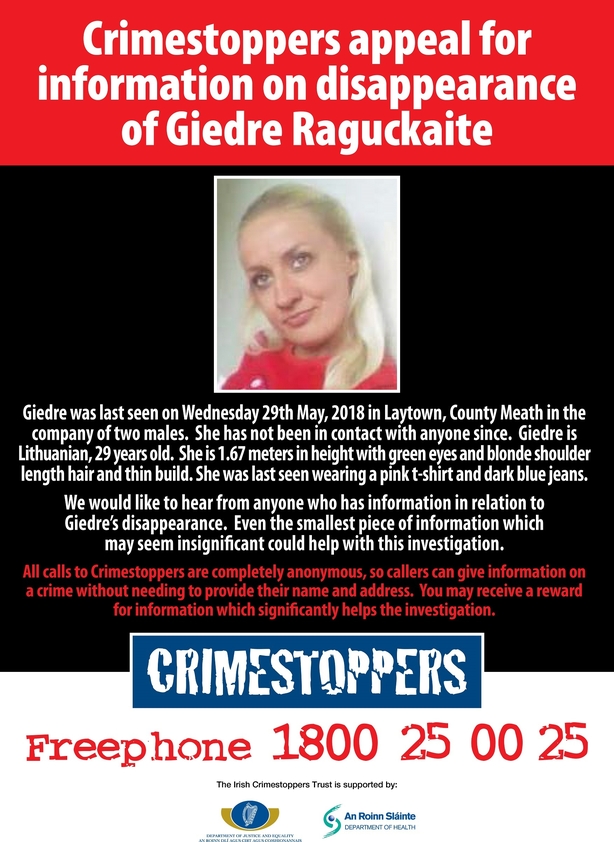 CASH IN TRANSIT ROBBERY, ONGAR, DUBLIN 15
Gardaí at Blanchardstown Garda Station are investigating a cash in transit robbery that occurred around 11.50am on Thursday 28th March 2019 in a car park in Ongar village, Dublin 15.
The security driver was making a collection at a supermarket in Ongar village when he was approached by a man armed with a hammer and an iron bar. The suspect took the cash box and fled with the second suspect who was driving a champagne coloured Toyota Avensis, registration number 04 D 81008. The two suspects drove to the nearby Allendale estate where the car was set alight.
Description of Suspects
Suspect 1 – A white male, aged between late 30s and early 40s, with a slim build. He was wearing a peaked cap, brown jacket and navy trousers. This man is pictured in the Evofit below.
Suspect 2 – A black male who was wearing sunglasses and a black hat and scarf.
Appeal points
Do you recognise the man in the Evofit below?
Do you have any information about a champagne coloured Toyota Avensis (04 D 81008)?
Gardaí believe that this car was parked in Park View House, Tyrrelstown, Dublin 15 from the 23rd to the 28th of March. Did you see either of the suspects in the area during these dates?
The car was burnt out at Allendale Close, Clonsilla, Dublin 15. Did you see the suspects on foot or transferring to another car just after midday on the 28th of March?
Please contact Gardaí if you can help with this investigation.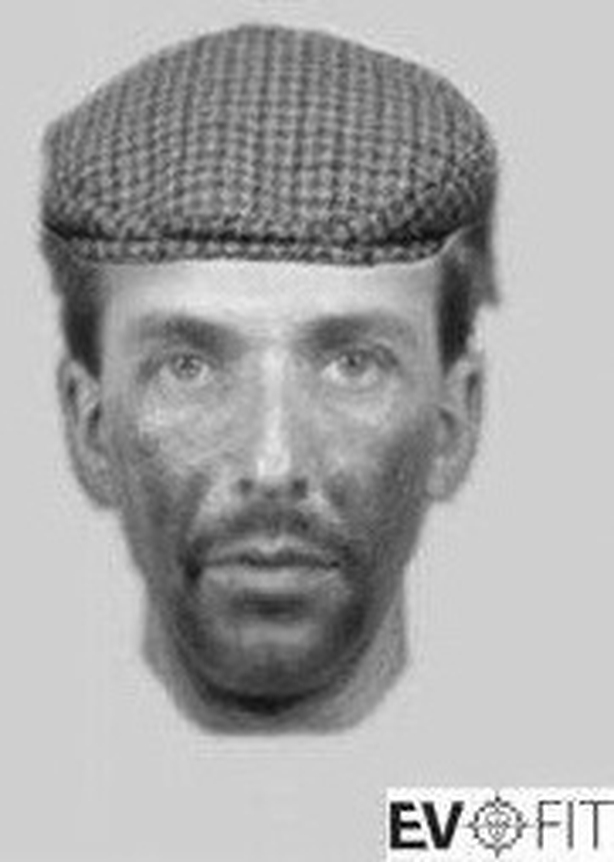 AGGRAVATED BURGLARY, SHANE, CO.LAOIS
Gardaí at Portlaoise Garda Station are investigating an aggravated burglary that occurred in a family home in Shaen, near Portlaoise on Tuesday 26th March 2019.
At approximately 9.45pm four armed masked men broke into a family home. The men threatened the family and demanded money from them.
The suspects took money and jewellery during the robbery and fled in a dark coloured saloon car. Gardaí believe it was an Audi A5 bearing a copied registration plate 151 D16704.
Gardaí are satisfied that this car was in the Tullamore area one hour before the aggravated burglary.
The four men were dressed in black and are described as follows:
Suspect #1 - 6ft, medium build and blue eyes. He was wearing a baseball cap, snood over his face and was carrying a large lump hammer.
Suspect #2 - 5'10", medium build and was carrying a screwdriver.
Suspect #3 #4 - Both 5'9'' and one was carrying a pole.
Appeal
To anyone with information on the movements of a black Audi A5 between the 22nd and the 26th of March.
The jewellery taken is unique and Gardaí are appealing to anyone, particularly gold outlets or pawn brokers who may have been offered the jewellery.