TV50: 7 Days: It's A Hard Oul' Station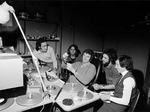 This is a profile of the Sherriff Street community in East Wall made in 1976. It is also a first effort at 'access television' for RTÉ who gave the Sheriff Community Development Association facilities to make a programme about their area. What resulted is an emotionally charged profile of a community struggling to survive the death of the Dublin docklands, where most of its men had traditionally worked, and the fact that few replacement jobs existed in the area.
The programme also explored the very real prejudices that existed against people with Dublin accents who came from the 'wrong address '. A survey of major Dublin employers admitted to this prejudice. In addition the IDA had a policy of investing in jobs in rural Ireland and not in the capital.
Declan McCann, IDA regional manager, explains that under IDA policy, Dublin is considered to be well supplied with jobs and it is up to the Sherriff Street residents to seek them. Joe Davis, Lecturer in Urban Economics in Bolton Street, Dublin, explains the economics of the loss of jobs in the Dublin shipyards as part of a global economic development. Only Michael O Leary, Minister for Labour, admits the need for change in public policy to address the issues. However, it will be many years before policy changes actually take place.
This documentary will be a revelation for younger audiences who are used to the glamour and elegance of the Dublin inner city dockland area. The Sheriff Street, East Wall docklands and surrounding areas are derelict and depressed, empty and bereft. The people are demoralised and without direction or hope. 'The Boat to England' seems realistically the only option for employment for the young men and women of the area. The 'flats' are a far cry from the modern inner city apartment of today. The children play in puddles and on broken playgrounds. Washing hangs drably on drooping clothes lines. One resident suggests that people are at breaking point and there is even a suggestion of possible future social unrest.
The programme was produced by Michael O Connell with researcher, Larry Masterson.
RTÉ One, Friday 27 July 2012, 7.30pm