Page Turners is a new arts-series that dips into multiple book clubs across the country.
In Episode One, our groups discuss Maeve Binchy classic 'Circle of Friends', give their take on Irish history through Sean O'Driscoll's 'Heiress, Rebel, Vigilante, Bomber; The Extraordinary Life of Rose Dugdale', reflect on their own relationships via Marian Keyes 'The Break' while discussing the impact of life in the public eye through Shane Carthy's 'Dark Blue' and Louise O'Neill's 'IDOL'. Watch it here.
In Episode Two (12th Jan) our groups discuss Graham Norton's 'Home Stretch' a touching tale of small-town tragedy and secrecy; school gate politics comes up in Eithne Shortall's 'It Could Never Happen Here'; Colleen Hoovers Tik-Tok sensation 'It Ends With Us' divides opinions while Gillian Hussey's 'Lessons From the Bench' and the classic 'Lord of the Flies' by William Golding complete the weekly reads. Also in this episode we are introduced to the ladies of the Malahide Book Club, six friends who hail from the former Soviet Union but now call the North County Dublin suburb home. Watch it here.
In Episode Three (19th Jan) our groups discuss one of Ireland's most famous literary muses, Nora Barnacle, through 'NORA' by Nuala O'Connor, debut Irish novelist Florence Gillan's dark and gripping mystery 'Let Them Lie', 'The Last White Man' by Moshin Hamid, classic favourite 'To Kill a Mockingbird' by Harper Lee and the heart wrenching 'The Optician of Lampedusa' by Emma-Jane Kirby. We also meet the Tertulia Book Club, who take their name from the book shop in Westport Harbour that they meet in. Self-confessed 'blow-ins' the four friends hail from Dublin, New York and midlands UK.
In Episode Four (26th Jan) our groups discuss Joseph O'Connor's latest release 'My Father's House', Jo Spain's take on Scandi Noir in 'The Last To Disappear', the Booker Prize nominated 'Small Things Like These' by Claire Keegan and Jeanine Cummins 'The Outside Boy'. Plus, our groups recap on their series highlights and share their favourite reads outside the show.
Find out more about all the books featured in each episode here - there's also a link to order a copy of each book from your local library.
A review show with a difference, our cast will chat literally and literarily as they discuss both modern classics and current book club favourites.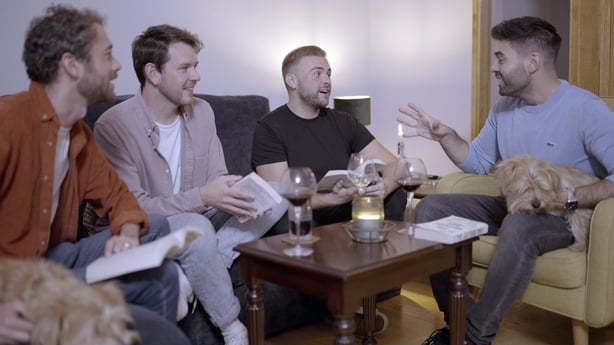 Like all good book club get togethers, their meetings go beyond just reviews to discuss how they personally related to each book. Expect lots of laughter and even some tears as we are invited into homes, cafes and pubs across the country to get an intimate glimpse into life in Ireland today.
Eight clubs feature across the series ranging from the Iron John lads in West Dublin to the thirty something friends who meet at the Forge in Donegal town. The Paper-Hacks gay men's club in Harold's Cross and the retirees of the Castle Grove book club in Mallow are joined across the series by the Tertulia Book Club in Westport, the Malahide book club and Fiction & Coffee in Dublin and the women of the Camán book club in north Cork.
CAMÁN BOOK CLUB
The Camán Book Club is made up of six members, Máire, Phil, Mai, Kathleen, Pauline and Colette. Their regular reads are mainly made up of fiction titles from Irish and UK authors….but the odd Mills & Boon does sneak in between meetings.
As they all live scattered across north rural Cork their meetings tend to be an opportunity to catch up on local and regional news, issues of the day. Most importantly Phil, the groups resident fashionista, gives advice on colour, styles and accessories to the rest of the group.
For Page Turners the Camán ladies read a number of titles that sat outside of their normal tastes. From sports biographies to history, new Irish writers to old Irish favourites they share their (often heated and split) opinions over the course of show.
THE FORGE BOOK CLUB
The Forge Book Club from Donegal Town are by far our largest club in the series. The 13 members meet once a month to discuss books, have a drink with their friends and (for some) escape the kids for a few hours.
The witty group of thirty somethings know each other through various means, some went to school together, some worked together, some lived abroad and returned – but all now call Donegal Town home and the Forge Pub their local.
For Page Turners there was laughter and tears as Maureen, Claire, Catherine, Elaine, Emma M, Emma K, Aisling, Sinead, Angie, Niamh, Tara, Laura and Karen discuss life, love and literature at the Forge.
IRON JOHN BOOK CLUB
A male only book club from Dublin, Iron John was formed in 2007 to create a space where men could be men and discuss issues that related to their lives away from 'just going to the pub'. The five members that appear in the series are spread across the capital but come together to meet at Gerry's house in Clondalkin.
The group take their name from Robert Bly's 'Iron John: A Book About Men' but are keen to confirm that they're open to reading female authors too…which we put to the test across the series.
Gerry and his son Matthew are joined by Paddy, Brendan and George make up our Iron John cast and we're keen to remember some of the original members who passed away yet still feel with them in spirit when they meet.
FICTION & COFFEE BOOK CLUB
Fiction & Coffee Book Club formed over lockdown on the social media site Meet Up. Initially meeting over zoom they gained nearly 200 members. Friendships were formed and when life opened up again some of the members began meeting in person.
Founding member Ailish wanted a social outlet for women in their twenties and thirties to meet that didn't revolve around Dublin's bar scene. She is joined on the series by Kerry native Rachel, book mad Natasha, PhD student Harriet, speech and language therapist Anna and Brazilian business graduate Nathalia.
As stated in their name the group are all about fiction titles so how will they fare with the titles we've given them across the series.
CASTLE GROVE BOOK CLUB
We have four members of Mallow's Castle Grove Book Club joining us for this series of Page Turners. The neighbours and best friends are great story tellers and big fans of Daniel O'Donnell.
Their monthly meetings usually rotate between members houses but for the series Annabel Roberts will be host. Their meetings are well known in the area for their incredible food spreads, as the women catch up about family and local news over wine, tea and nibbles.
Joining Annabel for the series are HR assistant Colette, retired school principal Maire and long-time friend Liz Hurley.
THE PAPER-HACKS BOOK CLUB
The Paper-Hacks book club are made up of friends Philip, Brandon, Kenneth and Jack. The LGBT group recently formed through mutual friends.
English teacher Philip and Californian native Brandon met as members of the Dublin Gay Men's Choir, while Philip and Kenneth met through their work with young people in the performing arts. Self-confessed book nerd Jack later joined when he heard the lads were starting a queer friendly book club.
Over the series the group gives us their take on a wide range of topics from Irish history and queer main characters to one particular character that resonates deep from Lord of the Flies.