In his new six part series Neven's Greenway Food Trails, chef Neven Maguire travels some of Ireland's most spectacular Greenways, and meets more of Ireland's best food producers and chefs. Programme One: The Great Western Greenway, Co. Mayo
Cycling through some of Ireland's most stunning scenery, Neven explores established Greenways such as The Great Western Greenway in Mayo, The Limerick, Waterford and Royal Canal Greenways; and he follows the routes of future Greenways planned for South Kerry and Connemara in Co. Galway.
Along the way Neven meets some of Ireland's most talented food producers and chefs in a variety of interesting locations. He tastes venison in Dromcollogher in Co Limerick, organic beef burgers beside Lough Owel in Co Westmeath, and mussels in Cromane, in Co Kerry.
Ireland's Greenways follow the routes of abandoned railway lines and canals which have been revitalised as cycling and walking tracks, passing through dramatic mountainous landscapes, lakeshores and seascapes. On his travels Neven also meets local historians who tell him all about these 19th century feats of engineering which had a transformative impact on the whole country. Many of the original aqueducts, viaducts and tunnels form part of the Greenways today and feature in the series.
Programme One: The Great Western Greenway, Co. Mayo
The Great Western Greenway is a 42km cycling and walking trail which follows the route of the old Westport to Achill Railway line, passing through spectacular scenery with views of Clew Bay, the Nephin Mountains and Croagh Patrick.Neven starts his journey in Westport, but before heading out on the Greenway calls in at Cornrue Bakery for breakfast. Here he meets local coffee roaster Aaron Page of Bean West Coffee. The Cornrue Bakery specialises in sourdough bread and has developed a breadmaking technique unique to Ireland. Baker Patrick O'Reilly shows Neven the baking process which takes five days to complete. As a result of the longer production time, Cornrue bread is intensely flavoured and very easy to digest.The Westport to Achill railway ran through Newport, and the impressive railway viaduct opened in 1894. The viaduct has seven arches and spans the Black Oak River. The railway closed in 1937, but the impressive railway viaduct has been preserved as a walkway.
While in Newport, Neven visits Kelly's Butchers, artisan producers renowned for their black and white puddings, bacon, and fourteen varieties of sausages. Next door is Kelly's Kitchen, an award-winning café run by the Kelly family, specialising in meat dishes. Head Chef José González cooks a Trio of Beef Casserole using lesser-known cuts of beef – oxtail, beef cheek, and feather blade.
Between Newport and Mulranny, just off the Greenway is the Greenway Lane Café and Art Studio where Maureen O'Neill combines her love of cooking and art, offering freshly baked produce in her café, and art workshops in her studio.
Heading northwest, Neven's next stop is the Mulranny Park Hotel, a former railway hotel located directly on the Greenway to meet local historian Joe McDermott and learn more about the historic railway and the origins of the Greenway. In Achill Neven meets the Calvey family who have been producing Achill Mountain Lamb for four generations. Their Mayo Blackface Mountain sheep are free to roam from the Atlantic beaches to the hills. Neven meets Martin Calvey to round up some sheep on the beach, and learns how the salty air and seaweed diet enhance the flavour of the meat.Back in Westport for dinner, Neven calls in at Sage, an award-winning restaurant run by Bulgarian couple Shteryo Yurukov and Eva Ivanova. Shteryo cooks West Coast Monkfish with Pork Belly, Curried Lentils Bonbon, Celeriac and Tarragon Mustard.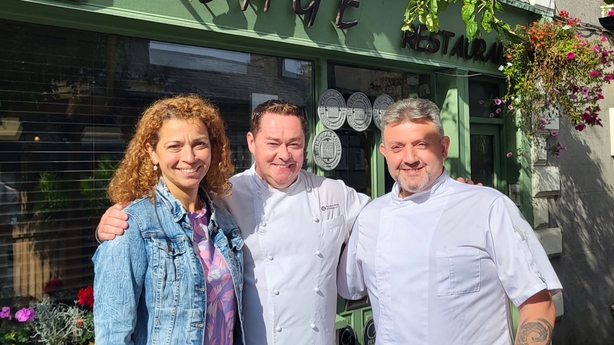 Wednesdays, 8.30pm