In the summer of 2006, Rob Reilly, a smart suited homicide detective and his partner Cassie are dispatched to investigate a child's murder, and find a community caught between old and new Ireland.
Dublin Murders, for BBC One, Starz and RTÉ with support from Northern Ireland Screen, is an eight part crime drama starring Killian Scott, Sarah Greene and Tom Vaughan-Lawlor.
Based on the Dublin Murder Squad series by crime novelist Tana French, the drama has been adapted for the screen by renowned screenwriter Sarah Phelps best-known for her Agatha Christie TV dramas and for her adaptation of JK Rowling's The Casual Vacancy.  Set during the height of the Celtic Tiger, the series will focus on two murder investigations led by ambitious and charismatic Detectives Rob Reilly and Cassie Maddox.
The Dublin Murders series begins on RTÉ One with a feature length episode on Wednesday 16 October at 9.35pm.
Dublin Murders Introduction by Sarah Phelps
Dublin Murders is drawn from Tana French's internationally bestselling Dublin Murder Squad books. The series blends the first two novels In the Woods and The Likeness, threading the stories together in order to build a vibrant world wherein actions, discoveries and revelations in one story impact upon and have consequences in the other.
On a hot August afternoon in 1985, three friends, Peter, Jamie and Adam ride their bikes into the thick, green, cathedral hush of Knocknaree woods. Only Adam is found.  Peter and Jamie are never seen again.  Not hide nor hair, no remains, no bones, no sign.  Nothing.  As if they were never there at all.  As if some secret door in the woods opened and slammed shut again.  And as for the one left behind, as for Adam, there is absolutely no memory at all of where his friends or what happened to him before he was found, alone and screaming in the deep, dark woods.
Twenty-one years later, on another hot August day, Detective Rob Reilly and Detective Cassie Maddox follow the trail of police incident tape deep into the same green hushed Knocknaree woods. At the centre is an ancient stone altar.  Arranged on the altar, dappled with sunlight, as if she were sleeping, is the body of Katy Devlin.  Her skull has been fractured and she's been suffocated.  She is only thirteen years old, the same age the three friends were when Peter and Jamie vanished and Adam forgot everything.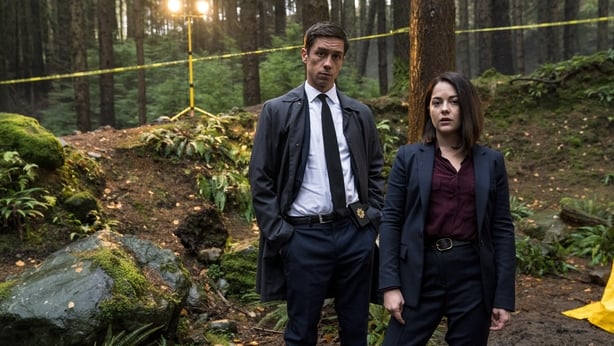 Rob and Cassie have been partners working murder for some time.  They're both outsiders; Rob is English and Cassie, well, women are still rare in the male dominated world of homicide detectives. They're friends, they work almost telepathically together, they understand each other, and they get results, uniquely bonded by their own troubled histories, their griefs and the losses that haunt them.
Against his better judgement Rob is savagely hooked into his own past and a painful primal wound. Protected by his intense friendship with Cassie, he plunges into darkness and a reckoning that he hoped never to face. Beached by the case and betrayal, when a vibrant young woman is found dead in a roofless famine cottage, Cassie chooses to immerse herself in a dangerous undercover operation in search of a killer. 
Once inside the dead woman's graceful Georgian house, she unexpectedly finds the home and family that she's never had. But this is a family full of secrets and riven by rivalry and fear. As they draw Cassie in and threaten to destroy her she has to choose between the truth and her sense of who she is and where she came from.
The world of Dublin Murders is part psychological thriller, part police investigation with a shiver of modern gothic. It's about the borderlands between memory and forgetting, madness and sanity, between the present and the voracious pull of the past.  With taproots sunk deep into the oldest folk tales of children who go under the hill, fetches and feys, it's a story about the terrible things we do when we think no-one can see us, when we think we can get away with it.  It's a love story about the search for forgiveness, for some tiny shining tenderness to guide us home.