RTÉ have teamed up with SSE Airtricity; proud sponsors of The Zoo to give you the chance to win an amazing prize.
One lucky viewer will win 2 years of free 100% green electricity plus a generation green smart home package all to the value of 5,000 euro!
See www.sseairtricty.com for lots of information on green energy options.
The prize includes a smart home bundle, energy efficient audit, climate, smart home bundle and boiler service and thats 2 years free green electricity and a smart home package to the total value of €5,000!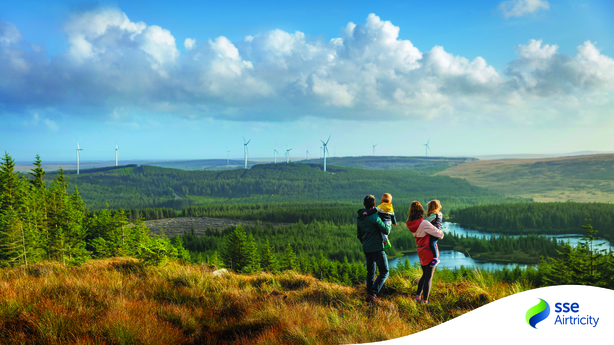 For your chance to get your hands on this prize, answer this question:
Which of these animals are white ?
Giraffe
Polar Bears
Lions
text ZOO followed by your answer and name to 57117 (ROI only).
Each text entry costs €2.00 (incl VAT).
Please note, the person named in the entry must be aged 18 years or older as at date of entry. This competition will close at midday on Monday, 9th November2020. Please do not enter after this time as you will be charged for your entry, but your entry will not be included.
Winner(s) details will be posted here once they have been contacted and verified as the winner (subject to delay(s) due to the verification process).
Participation/entry denotes acceptance of all associated competition terms and conditions as listed below.
COMPETITION TERMS AND CONDITIONS:
Service Provider: Phonovation 0818 217 100
This competition is open to Republic of Ireland residents only.
Please do not enter outside of the advertised competition open and close times and date(s) as you will be charged, but your entry will not be included in the draw. Competition may be closed if watching on catch-up services, please check dates and times.
Each text entry must contain no more than 160 characters including spaces, otherwise you may be charged an additional cost for every subsequent message. The use of emoji/smiley faces will also incur an additional charge and may vary with operators.
Entrants must be aged 18 years or older as at date of entry and a resident of the Republic of Ireland.
Promoter reserves the right to request proof of age, verifiable by birth cert or passport only, and proof of residency, verifiable by recent utility bill (issued within 6 months of win).
The prize is non-transferable and there is no cash alternative to non-cash prize elements (either in part or whole).
In order to claim the prize, the winner will be required to sign any documentation as may be requested by the Promoter relating to acceptance of the competition prize, terms and conditions and including, but not limited to, waiver of liability release in favour of the Promoter and such other persons as may be determined by the Promoter.
Prize for 1 winner includes 2 years' Free Electricity*, A Generation Green Smart Home package which includes, An Energy Efficiency Audit, Climate heating control device, Smart Home Bundle devices and A Boiler Service (with full details as specified by the Promoter, winner of the free Electricity must be existing SSE Airtricity customers or must agree to become SSE Airtricity Electricity customers to avail of the Free Electricity prize, Pre Paid Meter winner must agree to switch to a credit meter for the full two years, the Free Electricity is valid from SSE Airtricity, restrictions may apply, no cash or alternative is available)
The winner agrees that their details (name, town/city, county, winning comment and photograph) may be posted on SSE Airtricity's website (www.sseairtricity.com) and on other promotional materials, as well as any press releases which may be distributed to national/local media. The winner also agrees to participate in any promotional activities as well as any press releases in connection with the Prize Draw.
SSE Airtricity excludes liability, to the fullest extent permitted by law, for any loss or damage caused to the winner arising out of the Prize.
The Prize may be subject to additional terms and conditions and the winner is responsible for ensuring that any such terms and conditions are complied with.
SSE Airtricity reserves the right to cancel or amend the Prize Draw or these Terms and Conditions at any time without prior notice.
If there is any dispute regarding these Terms and Conditions, the selection of the winner or any other matter relating to the Prize Draw, the decision of SSE Airtricity shall be final and binding and no correspondence or discussion shall be entered into with any entrant.
By entering the Prize Draw the entrant warrants that he or she has the legal capacity to enter the Prize Draw and agree to these Terms and Conditions.
SSE Airtricity reserves the right to disqualify any entrant if it has reasonable grounds to believe the entrant has breached any of these Terms and Conditions. SSE Airtricity also reserves the right to disqualify any entrants which it deems, in its sole discretion, to contravene the spirit of the Prize Draw.
If any entrant is disqualified from the Prize Draw, SSE Airtricity in its sole discretion may decide whether a replacement entrant should be selected. In this event, any further entrant will be selected on the same criteria as the original entrant and will be subject to these Terms and Conditions.
Proof of transmission cannot be accepted as proof of delivery. SSE Airtricity does not accept responsibility for any error, omission, interruption, deletion, defect, delay in operation or transmission, communications line failure, theft, destruction, alteration of, or unauthorised access to entries, or entries lost or delayed whether or not arising during operation or transmission as a result of server functions, virus, bugs or other causes outside its control.
*Definition of Two Years Free Electricity:
a) Two Years Free Electricity is applicable to one domestic Meter Point Reference Number ("MPRN") in Republic of Ireland. If the winner has more than one MPRN with SSE Airtricity, only one MPRN will be awarded with the 'Two Year's Free Electricity'.
b) A single year of Free Electricity is calculated based on the Estimated Annual Consumption ("EAC") of the winner's MPRN. The EAC is based on the winner's previous twelve months' usage prior to the commencement of the Competition. If SSE Airtricity does not have access to the previous twelve months' usage records in respect of the winner, SSE Airtricity shall have full and sole discretion to determine the EAC based on its own calculations.
c) Two Years Free Electricity will run for 24 months commencing on the first day of the first/next billing cycle date after the winner has been notified by SSE Airtricity (the "Term").
d) Two Years Free Electricity shall be capped at the EAC plus 10% of the EAC ("Capped EAC"). Any usage over and above the Capped EAC (as determined by SSE Airtricity) shall be paid in full by the winner.
e) Notwithstanding any other provision in these Terms and Conditions, the value of Two Years Free Electricity will not exceed €3,000 (inclusive of VAT at the applicable rate and associated charges).
f) VAT charges associated with the Capped EAC will be paid by SSE Airtricity. VAT charges for any portion of consumption above the Capped EAC shall be paid by the winner.
g) Standing Charges (if applicable) will be paid by SSE Airtricity (as well as any associated VAT amount).
h) All un-metered charges such as disconnection/reconnection charges, meter exchange charges and any other such equivalent charges will be paid by the winner.
i) Any outstanding debt with SSE Airtricity Limited must be paid in full.
Any requested and permitted upgrades or changes to the stated prize will be at the winner's own expense.
The Promoter reserves the right to substitute prize of equal value if a prize element becomes unavailable for any reason whatsoever.
Employees of RTÉ, Phonovation, SSE Airtrcity and their associated promotional partners, companies or suppliers and their immediate family members are not eligible to enter/win.
RTÉ's decision in relation to selection of winner is final and no correspondence will be entered into
Any personal data relating to competition entrants will be used in accordance with current Irish data protection legislation and best practice. Please see RTÉ Privacy Policy for further details. Data relating to entrants will be retained by RTÉ for a reasonable period after the competition closes to assist RTÉ to operate competitions in a consistent manner and to deal with any queries.
For the purposes of administration of the competition prize, it is a contractual necessity that RTÉ shares the winning entrant(s) personal data with the competition promotional partners.
Where you have provided RTÉ with your personal data you have a right to be given a copy of your personal data subject to certain exceptions. To exercise your rights in respect of your personal data please see RTÉ's Data Subject Rights Guide
RTÉ standard competition terms and conditions apply.