With winter just around the corner, RTÉ Sport would like to give you something to look forward to by giving you the chance to win a prize to the value of €2,000...
That's right, we have a €2,000 cash prize that you can spend however you like.
Save it for a rainy day, get something special for a friend or family member this Christmas or even put it towards a trip to a soccer game when gates reopen…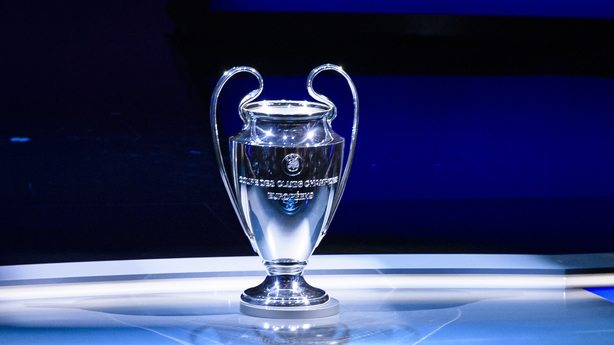 Whatever you like, that's a €2,000 cash prize to give you a lift...
For your chance to get your hands on this great prize, answer this question:
Which of these teams won the 2020 UEFA Champions League?
Bayern Munich
Tottenham Hotspur
Chelsea
If you know the answer please text the competition line:
text GOAL followed by your answer and name to 57001 (ROI only).
Each text entry costs €2.00 (incl VAT).
Please note, the person named in the entry must be aged 18 years or older as at date of entry. This competition will close at midday on Wednesday, November 4th 2020. Please do not enter after this time as you will be charged for your entry, but your entry will not be included.
Winner(s) details will be posted here once each finalist(s) has been contacted and verified (subject to delay(s) due to the verification process).
Participation/entry denotes acceptance of all associated competition terms and conditions as listed below.
COMPETITION TERMS AND CONDITIONS:
Text Service Provider: Engage Hub. Tel: 0818 444 697.
This competition is open to Republic of Ireland residents only.
Each text entry must contain no more than 160 characters including spaces, otherwise you may be charged an additional cost for every subsequent message. The use of emoji/smiley faces will also incur an additional charge and may vary with operators.
Please do not enter outside of the advertised competition open and close times and date(s) as you will be charged, but your entry will not be included in the draw. Competition may be closed if watching on catch-up services, please check dates and times.
Entrants must be aged 18 years or older as at date of entry and a resident of the Republic of Ireland.
Promoter reserves the right to request proof of age, verifiable by birth certificate or passport only, and proof of residency, verifiable by recent utility bill only (issued within 6 months of win).
The prize winner of the RTÉ Sport Soccer Competition will receive a cash prize of €2,000. Prize money is issued to the winner by euro cheque, made payable to the winner, allow 28 working days for delivery.
The prize is non-transferable.
In order to claim the prize, the winner will be required to sign any documentation as may be requested by the Promoter relating to acceptance of the competition prize, terms and conditions and including, but not limited to, waiver of liability release in favour of the Promoter and such other persons as may be determined by the Promoter.
Employees of RTÉ, Engage Hub and their associated promotional partners, companies or suppliers and their immediate family members are not eligible to enter/win.
RTÉ's decision in relation to selection of the winner is final and no correspondence will be entered into.
Any personal data relating to competition entrants will be used in accordance with current Irish data protection legislation and best practice.
RTÉ's decision in relation to selection of the winner is final and no correspondence will be entered into. Any personal data relating to competition entrants will be used in accordance with current Irish data protection legislation and best practice. Please see RTÉ Privacy Policy for further details. Data relating to entrants will be retained by RTÉ for a reasonable period after the competition closes to assist RTÉ to operate competitions in a consistent manner and to deal with any queries.
For the purposes of administration of the competition prize, it is a contractual necessity that RTÉ shares the winning entrant(s) personal data with the competition promotional partners. Where you have provided RTÉ with your personal data you have a right to be given a copy of your personal data subject to certain exceptions. To exercise your rights in respect of your personal data please see RTÉ's Data Subject Rights Guide
RTÉ standard competition terms and conditions also apply.