See You at the Pictures!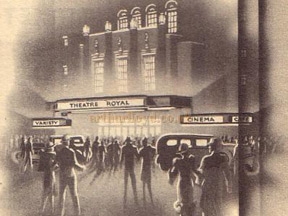 See You at the Pictures! is a brand new documentary by RTÉ in association with 2fm and Planet Korda Pictures, and we want you to help us make it. The documentary is about Ireland's century-long love affair with the movies: from the birth of the nation through censorship in the 50s and 60s. From those seminal 80s coming-of-age movies we all knew and loved right through to the latest Bond release, we want to hear your stories about your favourite movies, your favourite movie music, your memories of going to beautiful (or not so beautiful!) old cinema buildings, and of the movies that changed your life.

We're not just talking about Irish movies either - we mean everything from The Birds to Jaws; from Dirty Dancing and Footloose to Rock Around the Clock; from Gone With The Wind to Lord of the Rings. Where were you when you saw them? Who were you with? And what impression did they make on you and why?

We also want to hear from the people around you: your parents, grandparents, neighbours. Do they have memories of special movies or memorabilia of trips to the cinema, of taking part in movies or of film stars they may have met? Maybe you or someone you know was an extra in a movie that was filmed in Ireland; if so, do they have any pictures, memorabilia or stories to tell?

We're also building up an archive of Irish cinemas, now and in days gone by. Do you know where there was a cinema that no longer exists? Do you know what films were shown? Do you have any photos or memorabilia from those places? If you have any information about any classic Irish cinema, no matter how small or out of the way, we'd like to hear from you too. Does your local heritage or local history group have memorabilia or archive of a local cinema? Ask them to get in touch with us!

Tell us your stories. Whether it be about your first trip to the cinema, or a film that made a big impression on you, or a life-defining experience you had at the pictures...We want to hear them all.

The documentary will air on RTE One next April. But we're also developing an ambitious website; so the information and memorabilia you send us will be used to build up an exciting new online archive of cinema buildings and places of movie interest, as well as of your stories of movies and movie-going, for generations to come.
For the next 5 weeks, our teams will be touring the country, visiting towns and villages across Ireland to gather and film YOUR stories. Here's where we'll be and when: http://www.seeyouatthepictures.com/?page_id=759
And stay tuned to the Rick O'Shea Show every afternoon on 2fm for more details about where we are going to be, stories and competitions, and how to get in touch with us.
If you can't come and see us while we are filming, you can contact us in a number of ways: Email us your stories, videos and photographs to us at pictures@rte.ie
Visit us online and upload your videos or stories: http://www.seeyouatthepictures.com/
Join us on Facebook: www.facebook.com/Seeyouatthepictures
Or join the conversation on Twitter: @SeeYouatthePics