Republic of Telly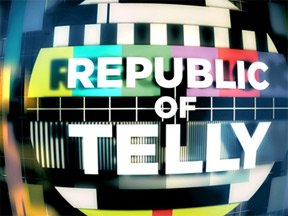 The IFTA Award-winning Republic of Telly kicks off its eleventh season on RTÉ Two. Presenter Kevin McGahern alongside Jennifer Maguire and Bernard O'Shea will be ripping telly to shreds for your entertainment. Ireland's greatest detective SURELOOK returns as will BRIDGET & EAMON who remain bickering and trapped in the 80s. The show will continue to terrorise celebrities on the Red Carpet, our 24 cameras will be popping up around the country and there'll be plenty of cutting TV show parodies and comedy music videos. As always some of the best new Irish comedy talent will be showcased with new characters making their debut on Irish Television.

Watch out for extras and previews online at https://www.facebook.com/republicoftelly
Want to be part of our studio audience?
Interested in coming along to one of our recordings?
Then please email us at: Tellytickets@rte.ie for futher information
The show is strictly over 18's.