John Walshe puts the Xbox One's downloadable games through their paces.
Crimson Dragon
When our home world became overburdened, a bunch of intrepid humans decided to colonise the seemingly idyllic planet of Draco, only for a dastardly virus called Crimsonscale to wreak havoc on the colony. Blah, blah and blah. You don't need the back-story, right? All you wanna do is hop up on the back of a dragon and ride that winged beast into battle. Crimson Dragon lets you do just that, and you pretty much spend your time shooting other beasties, collecting beacons and avoiding enemy fire and other obstacles as you fly missions either solo or with a wingman. The graphics are lovely, with some impressively ugly monsters, the voice acting is b-movie-tastic but truth be told, the gameplay gets very samey, very quickly.
Score: 3/5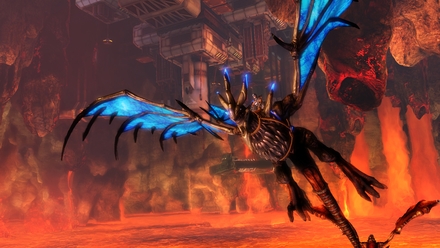 Powerstar Golf
This one does pretty much what it says in the title. It's an arcade style golf game that's not a million miles away from any other similar titles you may have played in the past, particularly Everybody's Golf on the PlayStation. It's probably more cartoonish than you'd expect from Microsoft, but it is undoubtedly fun. The controls are simple enough to master, even for non-golf aficionados, with a host of tutorials to get you into the swing of things pretty quickly, and you get to utilise your golfer's and caddy's special abilities for some superbly OTT action. Completing rounds, winning tournaments and performing challenges earns you extra credits, which you can then spend in the in-game store to buy new clubs, balls and boosters to improve your game. Fun but inessential.
Score: 3.5/5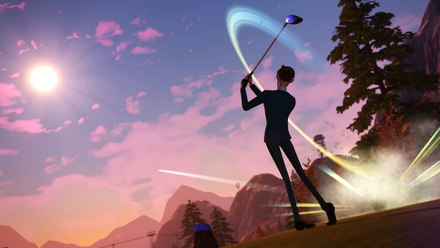 Killer Instinct
A classic 2D beat-em-up that last appeared in arcades almost two decades ago, Killer Instinct doesn't stray too far from the formula that made the likes of Mortal Kombat or Street Fighter so popular. Big, beefy combatants? Yes. Outrageous combos? Aye, captain. Extraordinary levels of ultra-violence? Indeed. What KI does well, however, is that far from being merely a button masher, there is more than a modicum of skill involved in timing blocks, counters and varying attacks, if you are to have a real chance of coming out on top. Otherwise, you stand to have your rear end handed to you on a plate, as your humble reviewer did in numerous online matches before he actually bothered to learn the basics in the game's in-house Dojo. Lovely bold graphics and character models, including the toothy Sabrewolf and the ice cold killing machine, Glacius, allied to typically OTT gameplay make this a welcome return for an old favourite.
Score: 4/5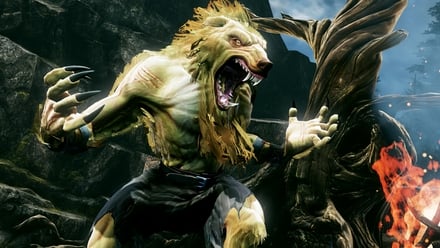 LocoCycle
An arcade racer with a difference, LocoCycle calls to mind classic driving titles from yesteryear, like Out Run and Spyhunter, but at the same time is thoroughly modern. What's perhaps most surprising is the amount of real-life film footage in the game, with a wealth of hilariously hammy actors employed for the cut-scenes. The action begins at a party from international munitions developer Big Arms, featuring potential buyers from right across the known world, where the star attractions are artificially intelligent motorbikes IRIS an SPIKE. When IRIS gets hit by lightning, she takes off on a mission to get to the Freedom Rally in Scottsburg, Indiana, with her Hispanic mechanic, Pablo, literally in tow (his workpants getting caught in her engine). And so begins a pretty insane combination of driving, shooting and melee combat, the latter featuring Pablo as the weapon of choice, as IRIS takes on gun-toting heavies, RPGs and her nemesis, SPIKE, in a bid to reach the rally of her dreams.
Score: 3.5/5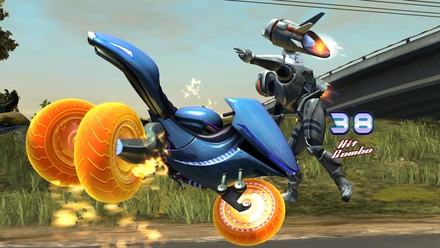 Xbox Fitness
Not a game but a home fitness programme from trainers like Insanity, Jillian Michaels, Tracy Anderson and P90X, Xbox Fitness works with your Kinect to help you to work out in the comfort of your living room, providing you have enough space to do so. With a whole host of workouts, from cardio kickboxing to plyometrics, there is something for everyone from the fittest to the laziest. In the interests of honesty and fairness, your humble reviewer eschewed the Brazil Butt Lift in favour of the Belly Fat Burner, and can attest to much sweating and swearing over the course of the following 10-minute period. Thankfully, you can choose whether to share your fitness results online or not, but even if you're not comparing your performance against your mates, Xbox Fitness still rates you against the average results for your age bracket. The fact that it also grades your performance as you work out is either the kick up the backside you need to perform or the equivalent of having an annoyingly fit personal trainer in your ear while you try to disappear into your leotard. Ahem.
Score: 5/5
John Walshe