Book Review
Rapids by Patrick Boltshauser
Tuesday 20 May 2014
Publisher: Dalkey Archive, paperback
1 of 1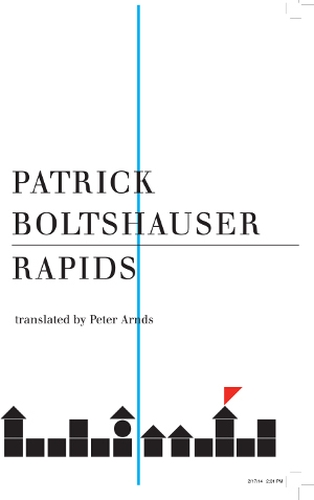 Patrick Bolthauser is a playwright and novelist who was born in 1971 in St Gallen, Switzerland and grew up in Liechtenstein. His plays have been performed to popular acclaim in Austria, Germany, Switzerland and Poland. Rapids is his first novel, translated from the German by Peter Arnds, a lecturer in Comparative Literature and Literary Translation at Trinity College, Dublin. Boltahuser, in fact, visited Dublin in April for a reading and discussion at Trinity College.
Bolthauser's 235-page debut novel is in essence a campus novel, set in `a strange city,' that old fictional reliable since the days of Kafka. The protagonist is an unnamed student who is effectively being swept along through the 'rapids' of his late adolescence, hence thetitle. The novel was originally published as Stromschnellen, the German word for rapids in a mountain river.
In fact, Switzerland is the recognisable terrain, although not always of the pretty variety, given the depiction of a heroin addict in the character of Christina.
The unnamed student is engaged in a wild, lusty affair with the slightly older, free-spirited but troubled student Anja. She is already involved with Sebastian, the singer with the Carefree Visigoths, whose new album Disk is creating quite a stir.
There are some puzzling narrative distractions, however, as we are presented with letters that the protagonist is writing to an ex-girlfriend, Marlene, who has moved to New York.
His brief encounter with the mysterious Nelly, and also his cheating on his best friend with his girl-friend are also part of the over-loaded saga. The young lad is clearly a neurotic womaniser, swept along, er, in the 'rapids' of womanising (that's his excuse anyway.)
The story blossoms significantly when the action departs from the claustrophobic campus as Anja takes the student back to her home village. She visits her mother's grave, there is a certain poignancy, and the grandeur of the rustic Swiss scene is well evoked.
it's not every day that this book reviewer settles down to a book that announces itself as part of the publisher's 'Liechtensteinian Literature Series,' so with Rapids you keep looking for profundities and hidden mysteries. Shucks, I mean 'Liechtensteinian Literature Series' sounds damn ominous.
But the story may be just doing what in fact it seems to be doing – depicting the heady, risky adventures of a overly-sensitive young male student - somehow at large, despite himself - in an unpredictable Switzerland.
Paddy Kehoe