Former Westlife star Nicky Byrne, who recently sat in for Ryan Tubridy on his morning RTÉ 2fm show, has said that he would love to present more radio.

When asked if he would present a regular show on 2fm if he was offered a slot, he said: "Who knows. It's a huge commitment. I've met people in the UK and I'm waiting on things to come off and TV is where I'd love to be both here and across the water.

"I always want to live here but it would be silly of me to ignore the fact that Westlife have a fan base in the UK as well but...if they [2fm] were serious about it, it would be hard not to listen to that option and that opportunity to be honest."

However nothing has been confirmed to date: "There's been nothing in stone, they were delighted with the show, they thanked me a million times, as I was delighted with the opportunity and I thanked them. There's a new guy coming into 2fm now, I've never met him, Dan [Healy] is his name.

"Hopefully he's a fan and if not then I won't be back on 2fm, that's how fickle the industry is but I'd love to sit down with them and discuss stuff, absolutely."


Before presenting the Tubridy Show for the day, Byrne, who will co-present RTÉ's upcoming talent show, The Hit, said that: "Also my mam will be very proud I'm taking over the 'big one' even if its just for one day!"
After hearing the show, he said: "She was buzzing, she was in work. My mam started work after my dad passed away, she didn't work for years before that and she would have been listening to Gerry Ryan back home every single morning and obviously Tubridy when it changed over.
"So anytime we ever did anything on that slot with Westlife or me, she was always delighted."
Explaining how he ended up behind the mic on 2fm, Byrne said that he was a guest on The Tubridy Show Skerries outside broadcast and "then they called me the day after [the Skerries show] and said 'Would you consider, when Ryan's having his day off for his 40th, would you consider [presenting the show?]'. I was like, 'absolutely', that's a massive opportunity.
"I've done stuff before on radio and on 2fm, Celebrity Sunday, some of it was pre-recorded, some of it was live but the opportunity to actually get in front of the microphone live and unassisted, bar an engineer working the desk, it was a big chance, it was a big platform.
"Thankfully it went off without a hitch bar me saying Goodnight at the end of the programme at 11am!"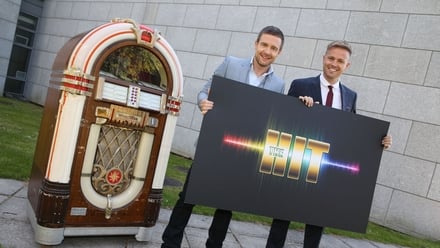 Aidan Power and Nicky Byrne will co-present the brand new six-part TV series, The Hit, on RTÉ One kicking off next month