Ray Harryhausen, the special effects pioneer famous for his groundbreaking work on fantasy films such as The 7th Voyage of Sinbad, Jason and The Argonauts, and Clash of The Titans, has died in London at the age of 92.
Harryhausen was the inventor of a stop-start filming technique which he called Dynamation. His painstaking manipulation and filming of clay models enabled actors to interact wth various dinosaurs and monsters in revolutionary ways in the early and later years of sci-fi and fantasy movies.
Perhaps his most memorable sequence was the fight in 1963's Jason and The Argonauts when the titular hero takes on a horde of sword-wielding skeletons.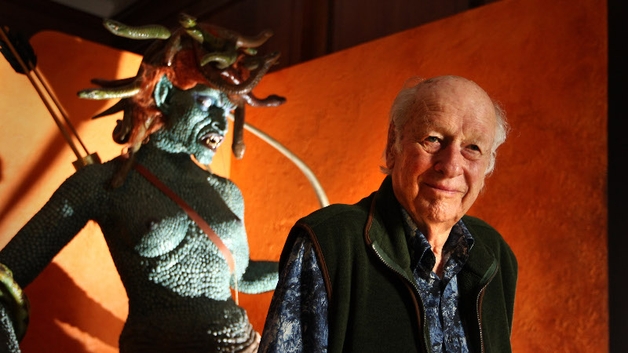 Ray and the model of Medusa he created for Clash of The Titans
Harryhausen also worked on the 1967 Raquel Welch film One Million Years B.C. and The Golden Voyage of Sinbad in 1974. His last major project was the 1981 mythological epic Clash of the Titans. He was awarded both a Bafta and a special Academy Award for his work.
He was born in LA in 1920 and began making his own monster movies in his parent's garage after watching King Kong in 1933. He went on to work with leading sci-fi director George Pal and was a huge influence on Peter Jackson, Steven Spielberg and Guillermo Del Toro.
Harryhausen's last production was the 2007 short, Ray Harryhausen Presents: The Pit and the Pendulum.
Watch a clip of some of Harryhausen's most famous work here: