John Byrne's TV choices for the week ahead (Dates covered: Mon Jul 21 - Fri 25)
There are more new and returning shows this week, while both Veep and The Americans are hitting their stride, and Maggie Q kicks-off a final run of Nikita.
Pick of the week
Alan Carr: Chatty Man Summer Special (Friday, Channel 4)
In olden times, TV summer specials were all the rage – although they were usually Saturday night entertainment shows. Here, Alan Carr returns to host his own summer special, shown in two parts. Guests joining him for summertime fun are comedy queen Miranda Hart who talks about her latest stand up arena tour; Hollywood action man Vin Diesel gives the lowdown on his latest film Guardians of the Galaxy; the stars of The Inbetweeners 2 movie - James Buckley, Simon Bird, Blake Harrison and Joe Thomas - join Carr on the sofa for an exclusive chat about their forthcoming film release. Also: host of the new Virtually Famous show Kevin McHale joins in the fun and Noel Fielding takes a little road trip to the beach with Alan Carr. Music is from Rizzle Kicks who perform their latest single Tell Her live in the studio. The second part is on after Friday Night Dinner.
Here's Alan Carr chatting with Justin Bieber:
Star of the week
Maggie Q
Nikita (Monday, Sky Living)
Should be interesting to see what the Hawaiian-Irish star of Nikita, Maggie Q (for Quigley) does in the wake of this fun spy drama. Hollywood should be an option as she's the ideal choice for any female action roles.
In this entertaining spy drama she's foiled assassination plots, intercepted terrorists and been falsely accused of murder, but after four blood-pumping seasons, it's time for the eponymous super spy to quit her ass-kicking ways.
The final chapter in her story begins with Nikita re-entering the US to prove that she didn't assassinate the president. For the last three months she's been following every possible lead to figure out why the Head of State shot herself, but has come up with nothing. Now she's been offered a lifeline by a reporter in Manhattan who has also been questioning what really happened in the White House on the fateful night.
Trailer Time:
Starting this week
Virtually Famous (Monday, E4)
Kevin McHale, who you might recall from Glee, hosts a brand new comedy panel show with two team captains in the shape of comedian Seann Walsh and Radio 1's Chris Stark. The premise of the show is that it celebrates the weird and wonderful world of online sensations - from globally famous viral memes and twitter rants to the greatest You Tube posts and Vine shorts, the rival teams will battle for points over the online moments that have made millions laugh. Guests across the series include Russell Kane, Tyger Drew Honey, Rachel Riley, Magician Troy and Chris Ramsay.
Trailer Time:
Also starting this week:
Suburgatory (Thursday, E4)
Back for a third season, this comedy is seriously under the radar but well worth a look. It's got a great cast, with Jeremy Sisto and Jane Levy starring as fish-out-of- water dad and daughter, a couple of Manhattanites living upstate.
Ending this week
John Bishop's Australia (Monday, BBC One)
The Liverpool comedian completes his three-part cycle trip from Sydney to Cairns. Pedalling through the heat and rain, Bishop takes on a gruelling military fitness test.
Here's Bishop learning how to surf on episode two:
Also ending this week:
Slum Survivors (Monday, BBC Three)
In the third and final programme in the series, three enthusiastic UK plumbers travel to Mumbai where they will have to find their way through some of the worst plumbing in the world, proving they have what it takes to call themselves Slum Survivors.
Friday Night Dinner (Friday, Channel 4)
The last episode in the current season of the award-winning comedy about the Goodman family, starring Tamsin Greig, Paul Ritter, Simon Bird and Tom Rosenthal. It's Grandma's wedding day, and she's getting married to the horrible Mr Morris. The family are distraught, but will Grandma really walk up the aisle?
Here's a clip from last week's episode - warning, contains adult humour:
Drama of the week
The Americans (Tuesday, RTÉ Two)
Claustrophobic doesn't even begin to describe this compelling and often mentally and emotionally draining drama about Soviet Union agents spying on the USA and pretending to be common-or-garden Yanks. This week, a new mission with international stakes has Philip calling on Annelise for assistance just as an old foe returns to DC with a vendetta. Meanwhile, Stan makes a discovery that could put the FBI hot on the trail of illegal immigrants.
Trailer Time:
Comedy of the week
Veep (Wednesday, Sky Atlantic)
Last week's season opener was fall-off-the-sofa funny and Veep is fast becoming the best comedy currently on TV. Here, Selina (Julia Louis-Dreyfuss in outstanding form) is forced to clarify her stance on abortion after the president suddenly announces that he's pro-life. Trying to find middle ground between the liberal Danny Chung and conservative George Maddox, her two main rivals for her party's presidential nomination, she turns to her own, largely fictitious, biography for clarification on her views on the subject, but draws a blank with the ambiguous passage, "Freedom means the freedom to choose how to use that freedom to protect the freedom of others". In the hope of not offending anyone, she meets pro-life and pro-choice advocates and tries to reassure them that she's on their side.
Trailer Time:
On Demand
Scandal (Sky on Demand)
Season three of this superb, rapid-paced US drama is coming to Sky Living, and you can catch the premiere early on demand. And if you missed out when the Kerry Washington-starring show was on More4 you can also get up to speed with the previous exploits of crisis manager Olivia Pope with the season one and two Box Sets on demand. But don't watch more than one episode at a time or you'll get dizzy. The entire show plays out in fifth gear.
Trailer Time:
Documentary of the week
Clothes To Die For (Monday, BBC Two)
In April last year more than a thousand people were killed when the Rana Plaza, a factory building in Bangladesh, collapsed. Many of those who died in the building were making clothes for western companies. In this documentary, survivors tell their remarkable story of survival and escape from the worst industrial disaster in the 21st century. Clothes To Die For also charts the origins and growth of Bangladesh clothing industry which now accounts for almost 80% of the country's exports, and the greed and high level corruption that led to the Rana Plaza tragedy.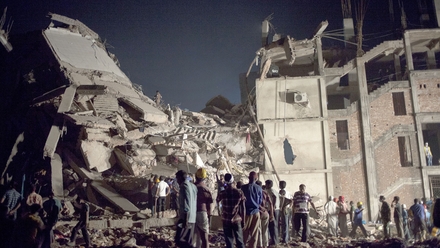 Film of the Week
I Am Legend (Wednesday, RTÉ One)
A very popular movie in our house, there's a lot to be said for this Will Smith-starring remake of Chuck Heston's The Omega Man. Smith does a fine job in a post-apocalyptic sci-fi film that he carries from start to finish. The dog's pretty good, too.