John Byrne looks at the returned Mad Men, some brand new US sci-fi dramas and the latest sitcoms from ITV
Reviewed: Mad Men (Wednesday, Sky Atlantic); Revolution (Friday, Sky One); Defiance (Tuesday, SyFy); Vicious (Monday, UTV); The Job Lot (Monday, UTV)
The clothes on the latest episode of Mad Men are a sure indicator that we're coming close to the end of the story, as they've gone from cool and sophisticated late-1950s-early-60s to the point where the garish end of late-1960s' fashion is raising its rather ugly head, and the men are starting to grow sideburns and wear anything but a sharp suit.

Storywise, though, season six has gotten off to a pretty good start, especially with main man Don Draper back to his cheating ways, despite replacing the rather cardboard Betty with the far more interesting Megan, who's pursuing a career acting on TV.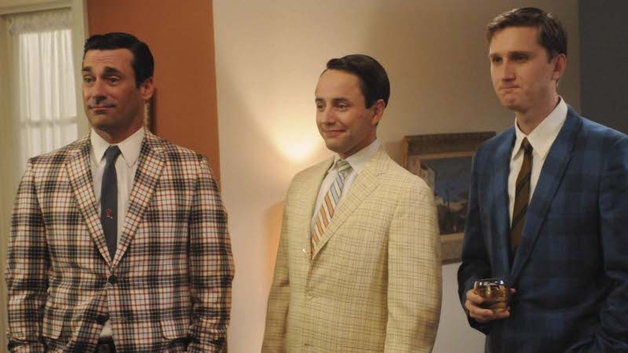 Mad Men: the sharp suits are now out of fashion
Indeed, episode four was all about 'de wimmin' rather than the Mad Men. Megan got herself a foot-up in work as her soap opera character was rewarded with a love affair – something that brought out the jealous side in Don who, obviously, failed to note the irony of his anger at his wife's imaginary love affair while he's getting it on for real with his friendly neighbourhood doctor's wife, Sylvia Rosen (played with steamy magnetism by Linda Cardellini) .

Then there was Joan, experiencing the negative as well as the positive repercussions of her firm-promoting tryst with Herb, the highly unappealing man from Jaguar. While she may have gained a position as a partner in SCDP, Harry Crane's outburst in front of the board (he felt he should've been offered a place while Joan got one for extracurricular activities) shows that her rise is very much a double-edged sword.

Dawn may be the sole black face in the office, but she's also playing a more prominent role this season and we caught a lot of her this week, both in the office and in her private life. Could she be the next Peggy Olsen? It's starting to look that way.

Speaking of Peggy: she showed a ruthless streak, exploiting Stan's trust to try and get her new company a nose in front of SCDP – and no one could blame Stan as he gave her the finger after both groups bumped into each at the Heinz pitch.

Fingers aside, Mad Men continues to offer a subtlety TV rarely delivers and – even though the clothes are starting to look awful – it's still the best show on the box that no one watches.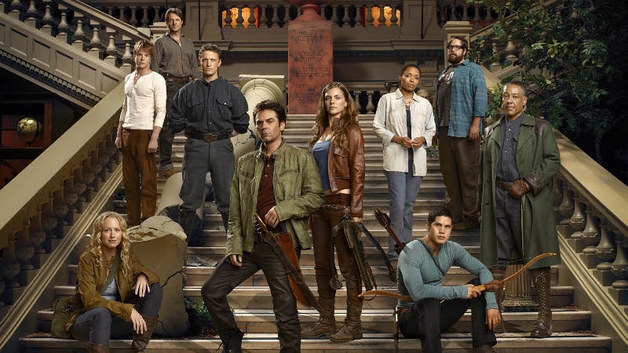 Revolution: Lost-style flashbacks are gradually unravelling layers
Now to a few new kids on the block, starting with a couple of sci-fi shows that aren't hugely dissimilar: Revolution (Friday, Sky One) and Defiance (Tuesday, SyFy).
The former boasts a decent premise: one moment all is fine, then suddenly all power lines fail and the world is plunged into darkness, devoid of all technology. And no one knows why . . .

Cut to 15 years later and it's like the Wild West, with armed militia keeping the peace (and controlling power), while a brave band of freedom-fighters try to restore the good ol' US of A. Meanwhile, a motley group are trying to find Danny Matheson, a young man with some link to the blackout, but who has been taken away by the militia for reasons so far unknown.

The show's already rather complicated and Lost-style flashbacks are gradually unravelling layers, but last week's episode was pretty stand-alone and hugely enjoyable. The group needed urgent medical help for freedom-fighter Nora and arrive at a mansion occupied by a gang run by Drexel, a (clearly unhinged) acquaintance of Miles, the uncle of Danny, who was once involved in the militia but is now a good guy trying to find and free Danny.

While obviously trying real hard to be the new Lost, Revolution lacks that show's truly bizarre and unique story, while the characters have yet to really rise above two-dimensional. But, so far so good, it's certainly entertaining.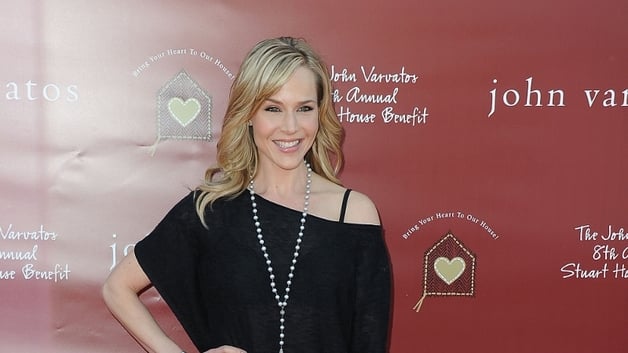 Julie Benz stars as the town mayor in sci-fi drama Defiance
As for Defiance, well it's not very good, really. Even after just a couple of episodes it's hard to see where this is going other than for the chop. The basic premise is straightforward enough: in a near future where Earth is almost entirely alien, a human drifter and his adopted alien daughter put down roots in Defiance, a community where humans and aliens coexist in the ruins of what was St Louis.

It stars Grant Bowler (Ugly Betty) as Joshua Nolan, the drifter who becomes sheriff of Defiance. Former Dexter and Desperate Housewives' star Julie Benz plays the town's mayor, while our own Fionnula Flanagan is a duplicitous former mayor up to no good.

There's a Romeo and Juliet subplot involving an Earth girl and an alien boy, while sheriff Nolan can't understand the crazy way these aliens live and – of course – they have their own rituals that are repugnant to the Earthies.

Defiance offers watchable sci-fi drama-by-numbers, and that's about it.
Mondays on UTV took a step over to the funny side of life with the arrival of two new and contrasting comedies. First up was Vicious, a remarkably old-fashioned TV sitcom completely stage-bound and featuring several celebrated theatre actors. Were it not for the fact that it was clearly and quite openly about two gay men who live together (and the fact that it was in colour rather than black and white) it seems to have been lifted out of the 1950s.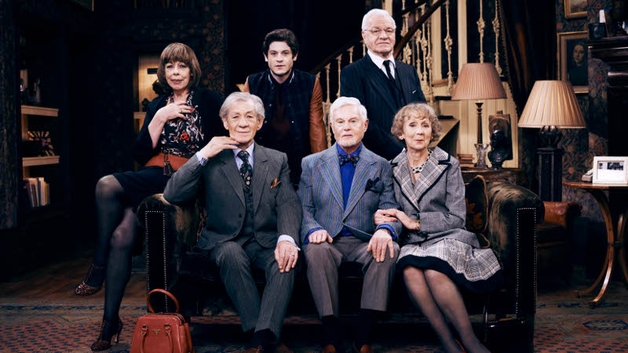 The script for Vicious 'could've been written for Jimmy Edwards'
Ian McKellen and Derek Jacobi completely ran the show and camped it up with great gusto with a script that could've been written for Jimmy Edwards (ask your granddad). Quite what a modern audience will make of this depends on whether you're more into Sarah Millican than Louis CK.

The Job Lot followed after the break and this is a much more mainstream and modern offering, coming in somewhere between The Office and The IT Crowd. It's about the various types who work in British midlands job centre, as well as the variety of unemployed people they deal with on a daily basis. It's neither original nor very funny, but it's okay. Beats working or being unemployed, I suppose.

While their inspiration may come from vastly different eras, both Vicious and The Job Lot can be filed under 'M' for mediocre. No worries: Veep is due back soon, and season one was terrific.
John Byrne