John Byrne takes in the season two opener of Sky Arts' Playhouse Presents while checking out a couple of US comedies – including recent newcomer The Mindy Project – and Lee Mack's enduring Not Going Out on BBC One.
Reviewed: Playhouse Presents... (Sky Arts 1, Thursday); The Mindy Project (E4, Tuesday); The Big Bang Theory (More4, Thursday); Not Going Out (BBC One, Friday)
I'd kept my gob shut so the wife was thrown a bit when she first saw a vaguely familiar face on the TV. 'Who's that?' she enquired. 'You'd never guess,' I teased. After a shoulder-shrug I knew I had to tell because she wasn't exactly in must-know mode. 'It's Kylie.' 'Wow! She's getting old.' Such is the patter between a couple married as long as us two. We've barely spoken to each other since.

It's been a lot longer, mind, since we last saw Kylie Minogue on TV: the 2007 Doctor Who Christmas Special. So her inclusion in the cast was the obvious USP for taking a look at the season two opener of Sky Arts 1's Playhouse Presents... but it wasn't the only reason anyone stayed watching; this was good drama, and a throwback to the days when the BBC did this kind of thing with majestic ease. What the hell, I even have a copy of the legendary Abigail's Party from 1977 on DVD. Well, I have it somewhere...
Kylie starred in Hey Diddly Dee, a sort-of play within a play about the final day of rehearsals at a less-than-impressive, fringe West End production about the life and times of Pop Art prince Andy Warhol.

It was patchy at times, but I particularly enjoyed the scene that featured The Velvet Underground's Venus in Furs, but overall Peter Serafinowicz was fine in the lead role as obnoxious actor Roger Kite, who was playing the Warhol role, and being a royal pain to anyone within earshot. Kylie played Kite's co-star (and did just fine), while former Homeland star David Harewood stood out as the doomed show's director, who had the thankless task of trying to cope with Kite and keeping the production together.
It was far from perfect – it got a bit silly near the end - but this is the kind of television that defies recent trends to dumb-down and make temporary stars out of clearly untalented people. We'll be back for more next week.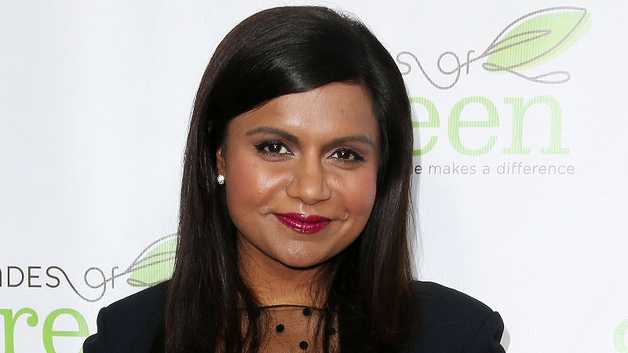 Mindy Kaling is creator, writer and star of The Mindy Project
New US sitcoms have been pretty uninspiring in recent times, so I wasn't expecting a lot when The Mindy Project arrived on E4 a few weeks ago. But I was still disappointed by the pilot, about a twentysomething female doctor desperately seeking a man.

It's a star vehicle for its creator and writer Mindy Kaling, who you may have seen on the US version of The Office. Give that its rather slim premise is hardly groundbreaking, it's going to have to work harder in other respects if it's to survive. This is about as far away from Lena Dunham's Girls as you could possibly get.

Last Thursday's fourth episode was entitled Halloween, and centred on the invite Mindy received from her admirer, Josh (Tommy Dewey), to attend a fancy dress party. A fairly predictable plot followed, but the episode was saved by a sub-plot involving two of Mindy's co-workers, Danny (Chris Messina) and Jeremy (Ed Weeks), who are both seeking a driver's licence at the same Long Island test centre.
The Mindy Project isn't great, but it offers a passable half-hour of fluffy fun. Its survival will depend on how strong the supporting characters become. On her own, man-hunting Mindy just won't cut it.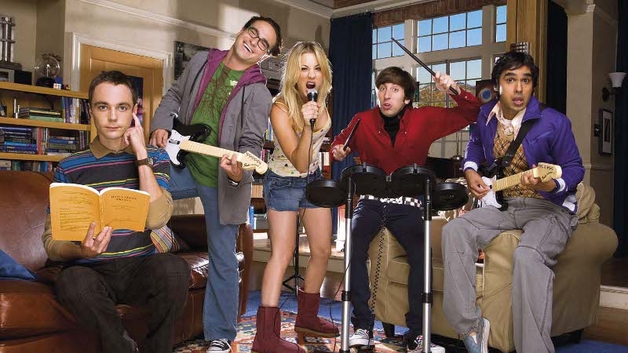 Big Bang Theory: Jim Parsons (left) continues to impress as Sheldon Cooper
Far more on top of its game - and as it should be at this stage - The Big Bang Theory recently returned to E4 on Thursdays after a mid-season hiatus. Now here's a show that knows exactly what works and delivers it with relentless predictability. It's like a visual onesie at this stage. Sheldon and co will always put a smile on your face no matter how crap your day's been.

Last Thursday saw Sheldon – impeccably played, as always, by the great Jim Parsons – get into trouble at work after he spoke inappropriately to his female assistant after she'd made it clear she fancied Leonard.

The plot was played out with great enthusiasm by all, but you'd wonder how long The Big Bang Theory would've lasted if Parsons hadn't passed his audition. Even though he hardly ever says his trademark 'Bazinga!' anymore, Sheldon is such a dominant character, I reckon the rest of the cast could've joined Howard in space and it wouldn't have damaged the show.

What Parsons will get up to after TBBT ends is another matter. He may never work on TV again as he's certain to be seen as Sheldon for the rest of his life. But still, let's enjoy this wonderful character as long as we can, eh?

Over on the BBC there's been a run of really bad sitcoms in recent years, but one of the few that are actually funny is Lee Mack's Not Going Out (BBC One, Friday). A throwback to previous decades and sitcoms such as Terry and June and Sykes, the show's up to its sixth season and although several cast members are gone, it still retains a lot of humour, relying as heavily as ever on gags and Lee Mack's acting inability.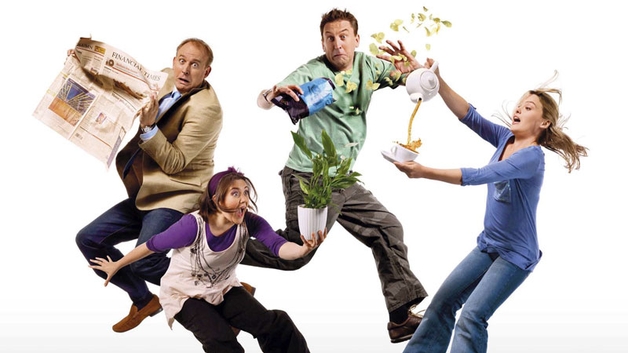 Not Going Out: the departed Tim Vine, plus the remaining Katy Wix, Lee Mack and Saly Bretton
This time around the loss of Tim Vine seemed fatal, as his character (also Tim) pretty much held the show together as he was Lee's BFF and Lucy's brother. But, so far, it's holding up well and last Friday's episode was a funny as ever. Bobby Ball – who, like Lee Mack is a bit of a stumbling actor - resurfaced as Lee's dad in an episode revolving around Lucy's announcement that she's studying to be a counsellor, resulting in Lee using her couch as a way of mending familial fences with his errant father.
A bit like an older sibling hanging around the family home who has a sharp tongue and a penchant for puns but never really got their act together (well, not enough to leave home), Not Going Out is a remarkably resilient reminder that being funny is usually more enjoyable than being clever.
John Byrne