Robert Page has suggested Gareth Bale and Aaron Ramsey could be used off the bench for Wales' make-or-break World Cup clash with England.
Skipper Bale and Ramsey have been Wales' best players over the last decade or so and guided the country to the last two European Championships and the 2022 World Cup.
But both players – Bale is 33 and Ramsey 31 – have been way below their best in Qatar, leaving some Wales fans to call for the pair to be benched with Page's side on the brink of World Cup elimination.
Manager Page said: "It's a big ask for anybody in this environment to go four days later.
"I'm going to pick a team that I think can go out and compete against England, whether that's with or without them. I'm not going to give that away.
"If they don't start, can they can make an impact? That's always been my dilemma playing games in quick succession.
"If they start one game, can they start the next? My thought process won't be any different.
"Whether they come on and have an impact or start and last an hour or 90 minutes, they are talented footballers.
"We're all getting criticism now and rightly so because results aren't going our way and that's the industry we're in.
"We're big enough to take it – it's not a problem. We put our big boy pants on and get on with it."
The @rtenews channel is available on:
Saorview - Channel 21
Virgin Media - Channel 200
Sky - Channel 517
Eir - Channel 517

— RTÉ Sport (@RTEsport) November 29, 2022
Wales would secure a round of 16 place by beating England by a four-goal margin, something they have never achieved in 103 games between the two countries.
Any win would put Wales into the knockout phase as long as Iran and the United States draw the other game in the group.
Page said: "We've worked so hard to get into this position. My frustration and disappointment for the players is that we've shown nowhere near the levels of performance that have got us to this World Cup.
"We've picked them up, we've addressed it, we've got to draw a line under it, the last performance.
"Irrespective of the other result, whether we go home or whether we go through, we have to give a performance that our supporters can be proud of.
"We want to react in a positive manner and I'll pick a team that'll go out and give everything to the cause."
We need your consent to load this YouTube contentWe use YouTube to manage extra content that can set cookies on your device and collect data about your activity. Please review their details and accept them to load the content.Manage Preferences
Wales have not beaten England since Mark Hughes secured a 1-0 win in the 1984 British Home Championship.
Page said: "We don't look back at stats like that. We don't need that as motivation to win this game.
"We are hurting as a group because we know we're better than what we're showing. That is the motivation we need at the minute.
"It just so happens to be that it's England we're playing against. We'll pick a team that will be ready and we'll have a go."
Downing Street said that Rishi Sunak would be supporting England in this evening's match, while also hoping that both teams can advance "as far as possible" in the competition.
The Prime Minister's official spokesman said: "Obviously we want both teams to progress as far as possible.
"I think the Prime Minister personally is an England supporter.
"He's talked about that before, but certainly we want both teams to progress as far as possible."
Diplomatic foes the United States and Iran face off at the same time in a match that some Iranians fear may see further run-ins with stadium security or clashes with pro-government fans over raging protests back home.
The contest between the two nations that severed ties over 40 years ago will be held with increased security to prevent a flare up of tensions over the unrest that has gripped Iran since the death in custody of 22-year-old Mahsa Amini on 16 September.
In a show of solidarity ahead of the match, the U.S. Soccer Federation temporarily displayed Iran's national flag without the emblem of the Islamic Republic, leading Tehran to complain to FIFA, according to state media.
Qatar, which has strong ties with Washington and friendly relations with Tehran, has staked its reputation on delivering a smooth World Cup, beefing up security at Iran games and banning some items deemed inflammatory, like Iran's pre-Revolution flag.
When Iran beat Wales on Friday, security teams were deployed to "break up a small number of altercations" between Iranian fans outside the stadium, a Qatari official said, adding the incidents were dealt with "swiftly" to contain tensions.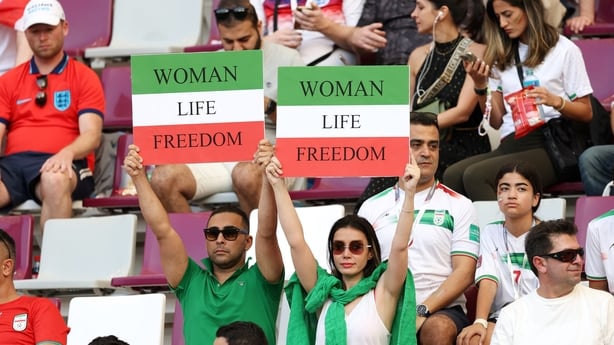 "I will not attend the game on Tuesday since I do not feel safe in Qatar," said Iranian-Canadian Azi, declining to give her last name and who was wearing a T-shirt declaring 'Women, Life,Freedom' - a slogan of the Iran protests.
"Qatar is conducting the same censorship system as what is going on in Iran... Also FIFA is to take the blame," she told Reuters about being stopped by stadium security for her attire.
Hila Yadegar, 37, plans to be at the match to show support for protesters even though she and her husband were both briefly held by stadium guards at the Iran-Wales match and despite voicing similar unease over security in the Gulf Arab state.
"I put a chair behind our room in the hotel even though it was locked," said Yadegar, who works in a hospital in Canada.
The Qatar official, when asked about fans' security concerns and complaints over restrictions, said authorities would ensure every match at the World Cup is "safe and welcoming for all spectators".
Items that "could increase tensions and risk the safety of fans" would not be permitted at stadiums, the official said.
Politics have spilled into the tournament, the first held ina Middle East country, with the Iran team facing pressure to side with protesters.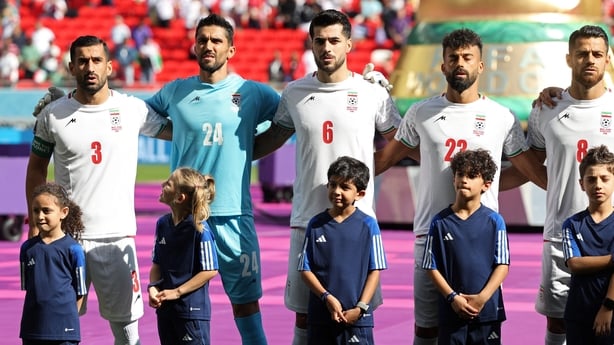 Iran players declined to sing the national anthem in their first game against England, which they lost 6-2. They sang the anthem ahead of their second match, a 2-0 win over Wales.
After Friday's victory an Iranian fan in a T-shirt with an image of Supreme Leader Ayatollah Ali Khamenei and Qassem Soleimani - a top Iranian general killed by a U.S. drone strike in 2020 - chanted over fans voicing support for protesters.
The nationwide unrest in Iran poses one of the boldest challenges to the theocracy since the 1979 Islamic Revolution. Washington has imposed sanctions on Iranian officials over the deadly crackdown on protests.
The United States and Iran severed formal relations in 1980 after the Revolution and ties were hostile when their soccer teams clashed in the 1998 World Cup. Iran emerged with a 2-1victory in a game dubbed the "mother of all football matches".
Former England international John Barnes slammed critics who have questioned World Cup hosts Qatar's treatment of migrant workers, saying detractors of the country had turned a blind eye to their progress on human rights.
Qatar, which was awarded hosting rights for the World Cup in 2010, has faced intense criticism from human rights groups over its treatment of migrant workers.
The country has made changes to its labour laws in recent years, dismantling much of its 'kafala' sponsorship system, increasing the minimum wage and setting up an insurance fund to help migrants cheated of their wages.
"While there is still a long way to go, the situation is streets ahead of where they were ten years ago - with improvements in housing, facilities and wages," Barnes, who made 79 appearances for England between 1983-1995, wrote in a column for the Times.
"It's interesting to observe that some of those who are making a lot of noise now have had little to say about the development of Qatar over the previous 20 years."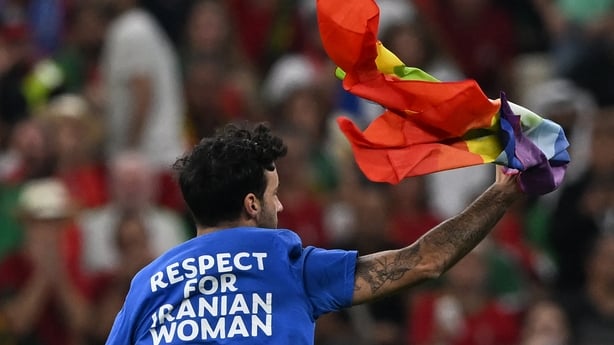 Qatar has also drawn criticism for its laws against same-sex relationships, with homosexuality deemed illegal in the conservative Muslim country, but organisers have repeatedly said that everyone, no matter their sexual orientation or background, is welcome during the tournament.
Captains from seven European nations had planned to show support for LGBTQ people in Qatar during matches by wearing 'OneLove' armbands, but those plans were scrapped after FIFA threatened to impose sanctions.
Barnes condemned Qatar's stance on LGBT rights, but said that visitors to the country needed to respect their laws, adding that boycotting the World Cup "would have a far greater impact" than wearing an armband.
"Qatar has invited 'everyone' to the World Cup, gay or straight, but demand 'everyone' be respectful of their ways, laws and culture...," Barnes said.
"The rainbow colours and OneLove armband promote something that is illegal in Qatar, even if we think it shouldn't be. Visitors to our country would not be allowed to promote something that's illegal."
Barnes added that it was hypocritical for English critics to find fault with Qatar, pointing to the treatment of Black communities in Britain.
"While discrimination is enshrined in Qatari law, discrimination is also enshrined in British society and culture," Barnes said.
"Lots of Black people are stopped, searched and detained just because they are Black. Let's sort ourselves out before we start to lecture and preach to the rest of the world.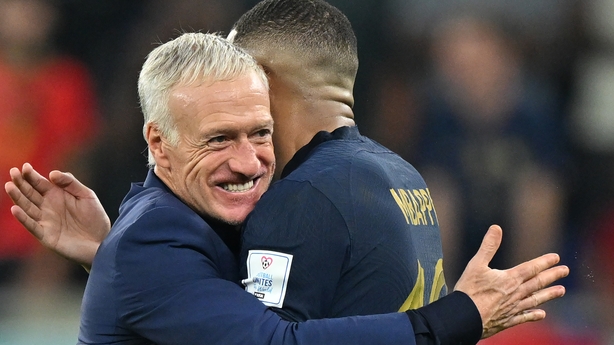 Didier Deschamps insisted Kylian Mbappe would have no problem with being benched for France's final group game against Tunisia on Wednesday if the coach decides to rest his star striker.
The reigning champions are all-but assured of top spot in Group D given their three-point advantage and vastly superior goal difference to second-placed Australia, and Deschamps spent much of Tuesday's press conference batting away attempts by journalists to work out how many changes he might make.
Deschamps confirmed there will be several, but would not say if Golden Boot hopeful Mbappe would be among them. The Paris Saint-Germain striker has scored three goals in France's opening two games, and is the tournament's joint top-scorer alongside Ecuador's Enner Valencia at this early stage.
The 23-year-old would no doubt fancy his chances of adding to that tally if he plays at the Education City Stadium, but Deschamps insisted Mbappe is focused on the bigger picture.
"His fitness is fine so we don't need to manage that," Deschamps said. "Perhaps then you are asking about his ego. Kylian doesn't have a big ego. Of course he's an important player, a key player, but he's a team player.
"Of course he's a star because he's such a vital player but he's not 18 anymore. He's got a bit more experience. He always wants to play but that's true of all players. Not all of them can start tomorrow. There are a lot of factors to take into account."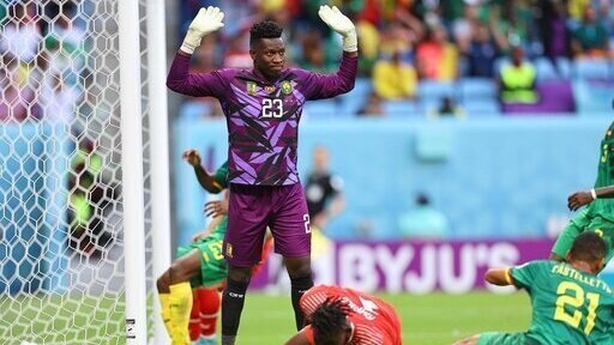 Cameroon goalkeeper Andre Onana claims there has "been no will on the other side" to resolve the stand-off which resulted in him being suspended by the country's football federation.
Amid pre-match reports of a training ground bust-up with head coach Rigobert Song, Inter Milan stopper Onana was left out of the squad to face Serbia on Monday, with the Cameroon federation later confirming it was for disciplinary reasons.
Cameroon fought back from two goals down in a thrilling 3-3 World Cup draw which keeps alive their hopes of progress from Group G.
Afterwards, Song accepted he had taken a "big risk" in not including Onana, but stood by the decision, stressing his role was to "put the team first ahead of an individual".
Onana, who reportedly left the team hotel and travelled to the airport on Tuesday, maintains "representing Cameroon has always been a privilege".
In a statement on Twitter, Onana said: "I want to express my affection for my country and the national team.
"Yesterday I was not allowed to be on the ground to help Cameroon, as I always do, to achieve the team's goals. I always behaved in a way to lead the team to success in a good manner.
"I have put all my efforts and energy into finding solutions to a situation that a footballer often experiences, but there has been no will on the other side.
"Some moments are difficult to assimilate. However, I always respect and support the decisions of the people in charge of pursuing the success of our team and country.
"I extend all my strength to my team-mates because we demonstrated that we are capable of going very far in this competition.
"The values that I promote as a person and as a player are the ones that identify me, and that my family has given me since my childhood. Representing Cameroon has always been a privilege. The nation first and forever."
Cameroon face Brazil in their final Group G clash on Friday needing a win to have any chance of making it to the knockout stage.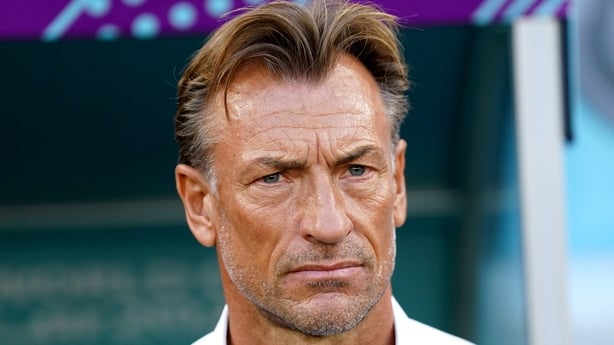 Saudi Arabia coach Herve Renard has challenged his players to make history by sealing their place in the knockout phase of the World Cup with victory over Mexico on Wednesday.
The Saudis know a win in their third and final Group C match will be enough to reach the knockout stages for the first time since 1994, when Saeed Al-Owairan's stunning strike sank Belgium.
And despite pulling off one of the greatest World Cup upsets over Argentina in their opening match, Renard has warned that result will count for nothing if they fail to follow it through by reaching the last 16.
"If these players want the fans to remember them they have to make history, otherwise people will forget in 20 or 30 years, because the last time we reached the second round was in 1994," said Renard.
"The most important thing is that we are still alive for this game and we have the chance to qualify, but we will have to fight very hard. Mexico have a lot of experience in the World Cup and a better record than Saudi Arabia."
Renard will have to shuffle his starting line-up for a match that could even see the Saudis progress with a draw, depending on the outcome of the other Group C game between Argentina and Poland.
Talismanic captain Salman Al-Faraj has already headed home after being ruled out of the remainder of the tournament with a leg injury, while fellow midfielder Abdulelah Al-Malki is suspended after picking up his second yellow card in the defeat to Poland.
Mexico must win and hope Poland beat Argentina, or else beat the Saudis by at least three goals in order to ensure an unlikely progression after two below-par performances.
But they are boosted by the return of captain Andres Guardado, whom it was widely assumed would miss the match after limping out of the defeat to Argentina with a leg injury.
Instead Guardado has declared himself injury-free and ready to take on the Saudis, insisting his team-mates must believe that they are still in with a chance of reaching the knockout stages.
"We believe in our chances and we hold on to them," said Guardado. "When you get a blow like the other day you need to digest it and turn the page very quickly.
"We have a big chance to forget the defeat to Argentina with a big game against Saudi Arabia. We can still qualify, we believe in our chances and nobody can tell us it is impossible."