FIFA have rejected a bid by Denmark's World Cup squad to wear pro-human rights shirts in training, the Danish football federation (DBU) have said.
World football's governing body dismissed the Danish request to be allowed wear jerseys bearing the message "Human Rights for All", a spokesman for the DBU told AFP.
Qatar has faced criticism for its human rights record on the treatment of foreign workers on major infrastructure projects for the World Cup and on women's and LGBTQ rights.
Meanwhile, Gareth Southgate will hold a meeting with the England squad to decide whether they take the knee at the tournament.
The Three Lions have made the gesture against racism and inequality in 33 straight matches after football returned after the Covid-19 shutdown.
England did not take the knee in the September's fixtures and will speak about whether they do at the World Cup next week.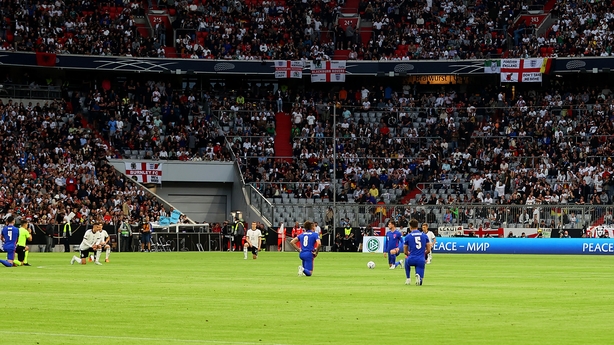 Asked if they would make the gesture in Qatar on the world stage, Southgate said: "That will be a discussion we have with the players when we get into the camp.
"I have always supported what they want to do. I have a view but I don't want to influence them too much because I think it's important that they have a voice and they have a say in that."
Premier League captains decided ahead of the start of this season to use specific moments to take the knee rather than making the gesture at every match.
The teams agreed to perform the act ahead of the opening round, dedicated 'No Room For Racism' matches in October and March, on St Stephen's Day and the final round, as well as the FA Cup and Carabao Cup finals.