RTE football pundit Liam Brady does not believe that England have the required strength in depth to influence matches in the knock-out stages of the World Cup.
Gareth Southgate's side suffered their first defeat of the tournament as Adnan Januzaj fired Belgium to a 1-0 victory in Kaliningrad.
The result mattered little to either team as both England and Belgium had already reached the knock-out stages following wins over Panama and Tunisia.
And both managers made wholesale changes to their respective sides as the match effectively turned into a reserve-team fixture, with both Southgate and Roberto Martinez giving their second string the chance to impress.
"England haven't got a bench" - Liam Brady worries for Gareth Southgate's side if they need to change things up during a match.#RTEsoccerhttps://t.co/lLC94u4XGe pic.twitter.com/n0EeWF7Y8t

— RTÉ Soccer (@RTEsoccer) June 28, 2018
Belgium won that particular battle and while England have shown glimpses in this tournament that they have a decent starting XI, tonight's game revealed that they are lacking support.
And Liam Brady believes that England do not have the personnel needed to come on and change a game as Southgate's squad head into the Round of 16 to take on Colombia on Tuesday.
"The lads coming in demonstrated to me that if he wants to change things, if he is up against it as the tournament goes on, he is not going to be able to count on the likes of Fabian Delph, Ruben Loftus-Cheek or Eric Dier," said Brady, speaking on RTE's World Cup post-match panel, following tonight's game.
"They haven't got a bench.
"Up front, yes they have Rashford, they have Vardy, and that is why I thought they had a better team out tonight than Belgium, but their midfield tonight was very poor.
"Dier is very negative, he just goes backwards and when he does try to go forward, he is not good enough and he is not good enough with the ball at his feet.
"These three guys did not do themselves any favours tonight because when you have Vardy and Rashford up front, they need service and they could not get any tonight because of the lack of technical ability of those three lads."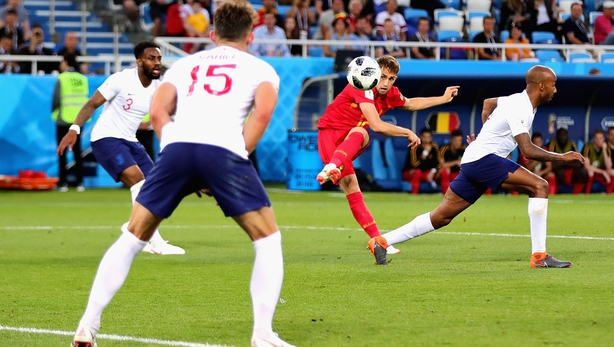 On the contary, Brady was very impressed with what he saw from the Red Devils tonight as they proved that they could still impress with the fringe players dominating the side.
"I got it wrong about Belgium. I thought they were excellent tonight. Technically miles better than England, particularly in midfield," added Brady.
"Dembele showed how a midfield player should play, and Fellaini had a really good game as well in a creative sense.
"Compared to the England midfield three in the middle of the park, and if you are looking at what you have at your disposal to change a game, Belgium will look at their reserves and say 'we have some good players there'.
"Thorgan Hazard had a very good game. Januzaj was brilliant for the goal."
And Brady gives their coach the credit for bringing together an entire squad that is now capable of winning the tournament.
"I think Martinez has made a statement tonight to say 'I have a squad to go all the way'.
"And the players and the talent that they have at their disposal is quite incredible and they have back-up now.
"So well done to them they deserve to top the group."
And to finish, Brady emphasised his thoughts on the English midfield and anticipates future problems for Southgate's side.
"England, I'd be a little worried if they have to introduce creativity into that midfield because they just don't have it.
"They have Henderson in there and he is a strong personality who works hard and he is having a good tournament.
"But where is he going to get assistance from other players? For me Loftus-Cheek, no, Delph no and particularly Dier, no."