Larry Fitzgerald's remarkable 75-yard catch and run set up his game-winning touchdown as the Arizona Cardinals survived a wild finish with a 26-20 overtime triumph over the Green Bay Packers on Saturday.

Carson Palmer, who connected with Fitzgerald on a five-yard pass for the winning score, earned the first play-off win of his 12-year National Football League career and sent the second-seeded Cardinals into next week's NFC championship.

But Arizona first had to withstand a 41-yard Hail Mary touchdown pass by Aaron Rodgers as time expired on regulation that sent the game into overtime.

The coin toss prior to overtime was initially flubbed by the official, who watched it fall to the ground without turning over and had to flip it a second time, but once play started the Cardinals struck on the opening drive.
"We're a resilient team and we believe"
"We're a resilient team and we believe," said Fitzgerald, who finished the game with eight catches for 176 yards.

"We found a way to win. We're glad to get this one behind us. We have to keep on fighting next week."

The Cardinals, who had not won a play-off game since the 2009 season, will play the winner of Sunday's game between the top-seeded Carolina Panthers and Seattle Seahawks for a trip to the Super Bowl.

The Packers defeated Washington 35-18 last week to reach the divisional round of the playoffs and fought until the end despite a critical loss with an injury to leading receiver Randall Cobb in the opening quarter on Saturday.

That left Green Bay and Rodgers with little-used wide receivers but he still managed to produce 261 yards and two scores.
Rodgers' miracle throw at the end of the fourth quarter was reminiscent of his Week 13 Hail Mary winning pass against the Detroit Lions.
Aaron Rodgers: 2 Hail Marys. 1 season. Here's both of them, side by side. #GBvsAZ #GBvsDET https://t.co/4292H7uHYd

— NFL (@NFL) January 17, 2016
The Green Bay QB scrambled and flung a bomb that found the leaping arms of receiver Jeff Janis.

"Most teams would've probably played prevent (defence on the last drive). I said 'hell no, blitz him,'" said Cardinals coach Bruce Arians.

"And he made a great throw. I loved the way our guys responded."

Palmer recorded 349 yards passing for three touchdowns to offset two interceptions.

He was the benefactor of an improbable bounce late in the fourth quarter of a back and forth affair.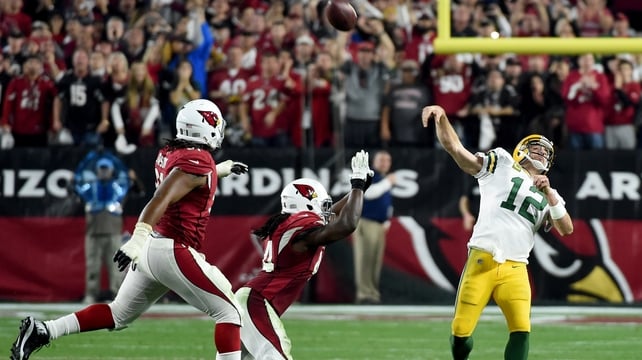 Palmer put the Cardinals ahead 17-13 on a pass that looked to be an interception when it was deflected by Green Bay's Randall Damarious and ricocheted into the hands of Michael Floyd.

The Cardinals added a field goal prior to Green Bay's last drive of regulation.

"It's tough. We've lost a few of these over the years where you don't touch the ball in overtime," Rodgers said. "It comes down to a coin flip sometimes. There were bizarre plays made by both teams."