The Detroit Tigers made sure they did not waste another starting pitching gem with a breakout 7-3 victory over the Boston Red Sox that tied the American League Championship Series at 2-2.
The Tigers unleashed their bats in Game Four with a five-run second inning before generating more than enough run support to separate from the Red Sox and even up the best-of-seven affair.
"It was awesome, we needed it," Detroit's Torii Hunter told reporters at Comerica Park.
"We knew we were down 2-1, but told ourselves 'relax, have fun and just go out and play the game'."
Manager Jim Leyland made a critical change to the Tigers lineup, dropping Austin Jackson from the leadoff spot to number eight and moving everyone else up in the order. It immediately paid dividends.
Thriving in his new spot, Jackson went 2-for-2 with two RBIs (runs batted in) for his best game of the playoffs.
"I think it just helped me relax," Jackson said. "That was the goal. To get me to relax, be patient get a good pitch and let the rest take care of itself."
New leadoff hitter Hunter powered a two-run double during second-inning charge, Miguel Cabrera went 2 for 4 to build a 7-0 lead with his second RBI in the fourth inning as Detroit responded strongly to consecutive tough defeats.
After claiming the series opener last week, the Tigers lost a five-run lead in Game Two and were shutout 1-0 in Game Three, despite pitchers Max Scherzer and Justin Verlander combining to strike out 23 and allow just two runs in those defeats.
Detroit's Doug Fister followed form by allowing just one run and striking out seven batters in six innings Wednesday as the Tigers avoided another letdown.
Boston's man on the mound, Jake Peavy, was blasted during three innings that saw him surrender seven runs.
Jarrod Saltalamacchia got the Red Sox on the scoreboard with an RBI single in the sixth inning, and they added runs in the seventh and ninth but there would be no comeback this time.
David Ortiz, who delivered a memorable tiebreaking grand slam in Game Two, flied out with a man on base for the final out in the ninth.
Jacoby Ellsbury had four hits and an RBI for the Red Sox in the defeat. Game Five is on tonight back in Detroit.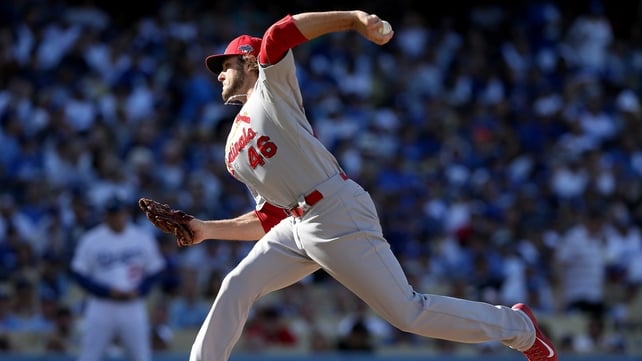 In the National League Championship Series, the St Louis Cardinals could be forgiven for feeling a sense of deja vu after establishing a 3-1 lead but manager Mike Matheny does not want to "live in the past".
The Cardinals have twice squandered that advantage to lose the series, most recently to the San Francisco Giants last year, and on Wednesday they slipped from 3-1 ahead to 3-2 after being beaten 6-4 by the Los Angeles Dodgers in Game Five.
The series now shifts to St Louis for Game Six on Friday, as well as Game Seven on Saturday if required, and Matheny hopes his players can learn from the lessons of the past without becoming too focused upon them.
"We've been very clear about the urgency," Matheny told reporters after Los Angeles had dominated Game Five at Dodger Stadium by blasting four home runs.
"Not that we had a lack of it last year, as much as just let's remember and a realization of how quickly that can change, not to take anything for granted.
"Right now, just keep playing the game. Don't get too far ahead, but also don't live in the past. Remember what happened, learn from it and let's see if we can change the course."
The Cardinals had opened up a 3-1 lead over the Dodgers with a 4-2 victory on Tuesday and were ideally placed to make a fast start to Game Five with bases loaded and no outs in the top of the first inning.
However, Dodgers starter Zach Greinke recovered by striking out Matt Adams and then getting Yadier Molina to ground into an inning-ending double-play for that opportunity to be lost.
"Well, we're definitely pretty excited about the opportunity we had right there," said Matheny. "There was a little momentum going, no question, if we're able to plate one, a couple.
"Our guys have been so good all season long in that situation, but it does happen. They're not going to be 100 percent good. You do give credit when they're able to do those and turn them around."
Asked how his hitters tried to approach former Cy Young winner Greinke, who allowed just two runs and six hits while striking out four in seven innings, Matheny replied: "I felt like they put together some pretty good at-bats.
"You've got to have the timely hits. We put some guys on base in that opportunity. You don't get many when you face top-tier pitchers. We had a couple opportunities to do something, and just couldn't make it happen.
"These guys have done a tremendous job in those exact same situations all season long. You're going to have games where you just can't make it happen. We've got to figure out a way to get it done the next time we get a chance."